Review of Unleash:
Today I share a review of the 3rd book in The Quest for Truth series by Brock Eastman.  I have really been enjoying reading this series.  It's written for tweens/teens, but I loved it, too!
Here's a brief plot overview: The Wikk kids' are on a quest to rescue their archaelogist parents.  The setting is in the future and has a "Star Trek" feel as they fly from planet to planet.  No aliens, though.
 I love the fun, sci-fi aspects of the story.  But the most important thing about the story is that the characters are on a Quest for Truth.  Christianity has been underground for so long that very few people know about it anymore.  Toward the end of "Unleash" much is revealed about the Truth!  You'll find drama, excitement, suspense, great characters, and a wonderful story in Unleash.  You can start with book 3, but you'll probably want to pick up Taken and Risk as well!  These would be good books to "assign" for your kids to read this next school year!  Here are my  reviews of book 1 Taken and book 2 Risk.
Other books by Brock Eastman:
The Giveaway: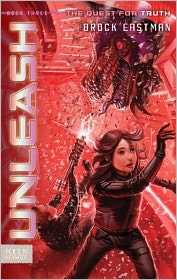 The publishers have kindly offered to do a giveaway of Unleash!  Enter through the Rafflecopter app below.  The giveaway will end next Monday night, 8/19/13.  The winner will have 24 hours to respond to my email.  U.S. winners only, please.
(Disclosure: I received a complimentary copy of Unleash in order to write this honest review.  This post contains affiliate links.)