A few years I started writing self-paced online music appreciation courses especially suited for homeschoolers either at home or at a homeschool co-op.
They are perfect for kids to do on their own or for a teacher to lead them through the lessons.
I've heard from classroom teachers and music teachers who are using the courses and loving them as well!
Elementary Courses:
Find fifteen 15-Minute Music Lessons especially for elementary-aged students. Everything you need is included right in the online course: lessons to read and videos to watch. Each lesson includes free printables and sometimes links to other sites to enrich your learning on the subject. You can complete each lesson in 15 minutes, but more material is included if you'd like to expand the time or the days on a particular lesson.
Music is such a part of our lives and can really help us prepare for the holidays we want to celebrate throughout the year. Learn about, listen to, and do activities with various songs and music which relate to holidays such as New Year's Day, St. Patrick's Day, the Fourth of July, Veterans Day, Thanksgiving, and Christmas! Also included are fun music lessons for special days such as Star Wars Day/May the Fourth, Talk Like a Pirate Day, and Dr. Seuss Day!
Ten lessons on ten different musicals. Read about the story and background, watch video clips, work on one printable per lesson, take an online quiz, and explore links to outside sites with other materials to enrich your study. The ten musicals are Annie, Seussical, Cats, James and the Giant Peach, Joseph and the Amazing Technicolor Dreamcoat, Mary Poppins, Newsies, Annie Get Your Gun, The Music Man, and The Wizard of Oz.
High School Courses:
The course consists of 18 lessons about the music, genres, styles, and composers of Western Music from 450-1800. You'll learn about Gregorian Chant, the beginnings of musical notation, organum, Medieval church modes, Hildegard von Bingen, Guido d'Arezzo, Josquin des Prez, madrigals, motets, the beginnings of opera, music of the Reformation, Buxtehude, Vivaldi, Bach, Handel, Haydn, Mozart, Beethoven, and many more!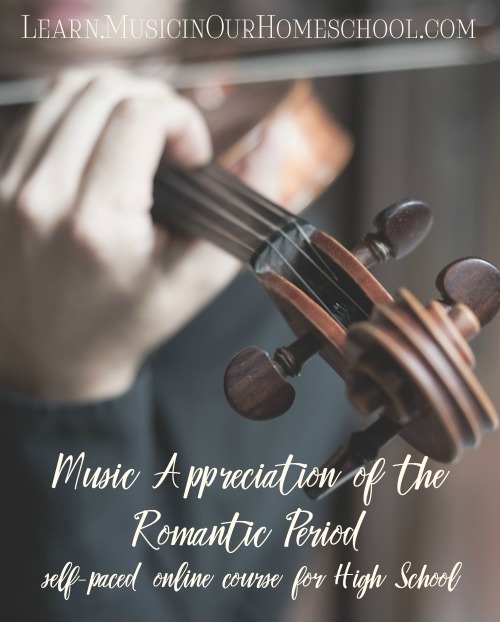 The course consists of 36 lessons about the music, genres, styles, and composers of Western Music from about 1800-1900. You'll learn about Schubert, Liszt, Mendelssohn, Chopin, Rossini, Wagner, Brahms, Tchaikovsky, Dvorak, Stephen Foster, Gilbert & Sullivan, Edward MacDowell, Amy Beach and many more! Music Appreciation of the Romantic Era for High School includes written lessons, videos to watch to learn more about concepts and to listen to the music, assignments to complete using printables which are provided, and online quizzes. Use the course to get a full or half-credit in high school Fine Arts. The course can be used for all ages (K-12), but is specifically written for the junior high/high school level.
Everything you need to earn a 1/2 credit in fine arts (in 20th Century Music Appreciation) is included right here in the self-paced online course. Go through 36 lessons and earn a 1/2 credit by spending a semester or year on the course. (Instructions are included, as well as how to adapt it to earn a full credit.) There are printables to print out to keep track of all you've learned. Read the lesson and watch the videos of the music you're learning about. A wide variety of styles from all decades of the 20th century from America, Europe, and South America are included: ragtime, big band, jazz, opera, ballet, impressionism, expressionism, atonal, serialism (tone row), chance music, guitar, piano, symphony, film music, folk music, rock and roll, and more!
All Ages:
More than one hundred videos are included in this mini-course so you and your students can listen to these wonderful musical pieces and songs of Western music tradition, from the years 1450 to the present era. A printable pack is included so students can critique and keep track of what they have listened to. Also included is a set of Composer/Musical Era Flashcards to go with each of the composers included in this course.
Have some fun taking a mini-music appreciation course with these 10 lessons: Instruments of the Middle Ages, Handel, Patriotic Music, Blues and Jazz, Aaron Copland, Gilbert & Sullivan, Dvorak and Henry T. Burleigh, "James and the Giant Peach" the Musical, Music for Veteran's Day, and Music for Thanksgiving. You'll even find a bonus lesson or two!
Not Music:
Fun lessons perfect for upper-grade students to do independently or for a teacher to use to lead a class through a study of Shakespeare at a homeschool co-op or school. Learn about how to pronounce Shakespeare, iambic pentameter, biography of William Shakespeare, the Globe Theater, Elizabethan theater, and memorization and performance tips. Memorize speeches, read through and watch monologues, watch A Midsummer Night's Dream, and perform an act from William Shakespeare's Star Wars.
For Moms:
Find twelve playlists especially chosen to inspire you through twelve different categories of homemaking: Faith, In the Kitchen, Home Management, Budgeting and Finance, Intentional Living, Marriage, Motherhood/ Family/ Homeschooling, Time Management, Self Care, Work + Life Balance/ Work at Home, and Creativity. There is a mixture of classical, musical theater, and pop music.
What's Next?
Hymn Studies for all ages is coming August, 2018.
Then, we'll have the courses American Music for Elementary Students and Music of the World coming soon after!
What other courses would you like to see?