Apologia Swimming Creatures
We had an absolutely wonderful time studying science this year using Apologia's Exploring Creation With Zoology 2: Swimming Creatures of the Fifth Day.  This was the fourth of the elementary Exploring Creation books that we have done.  And I have loved all of them!  Jeanne Fulbright loves the Lord and brings her understanding of God's creation to all of her readers.  We become fascinated with not only what He made but how he made everything!  We also learn about what evolutionists think about things and how we understand it differently.  For example, evolutionists would say the ocean is billions of years old.  But since the oceans are becoming saltier, if they were really that old, they would be too salty for life by now.  Also, many scientists think jellyfish are "simple" animals, but their nematocysts are so amazingly complex that only an infinitely intelligent Designer could have made them.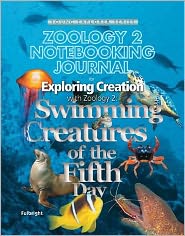 See below some pictures of the experiments we did (using the great experiment supply box from Nature's Workshop Plus), the ocean boxes we created, and the lapbooks we made!  I put a lot of great ideas on my Swimming Creatures Pinterest Board–be sure to follow it!
Science Experiments and Projects:
Making ocean currents:
Learning how octopus and squid rise and fall in the water:
Making a salt crystal brittle star:
Making a shell collection box:
How to Make Ocean Boxes:
Here's an octopus yarn craft that would be fun to include, too.
And, you'll love this Ocean Animal Craft with Free Templates.
Apologia Swimming Creatures Notebooking Journals
We used the Apologia Swimming Creatures Notebooking Journals, which are really well done.  The youngest kids did the coloring sheets, the middle kids the lapbook, and the oldest did notebooking pages and crossword puzzles of the vocabulary words.  Below you'll see pictures of the lapbooks of two of my kids.
Swimming Creatures Field Trip
We have one more thing to do wrap up our study, and that is to visit an aquarium!  We're planning to do that when we go on our road trip this summer.
Update:  We went to the Omaha Aquarium, and it was awesome.  Here are a few pictures, but see the rest at Vacation Post #1.
Giant Japanese Spider Crabs:
There was an awesome tunnel to see sharks, sea turtles, and rays:
Jellyfish:
Recommended Resource
By the way, many of the animals in our ocean boxes were made with Crayola Model Magic.  Crayola Model Magic is an amazing invention! I don't regret one bit ordering a class-pack of 75 individual packages for my kids to use this year. We got a great deal on it at Amazon. If you've never tried it, it's like clay but not messy at all.  You can color it with markers, and it dries in 24 hours.  My kids love it!
(Disclosure: This post contains affiliate links.)