Last month I shared how we started using a new reading program called All About Reading with my 8-year-old struggling reader.  We have completed 6 lessons now, so I'd like to let you know how it's going!
First of all, my daughter and I really like the variety of activities involved in the lessons.
We have review of phonogram cards and word cards,
learning a new concept which usually involves manipulating the magnetic letters on the magnetic white board,

a cut-out activity (she's "chopping" the word into 2 syllables)
reading words in the activity book,
learning new word cards,
and (in the next lesson) reading a story in the hard-back book.
It's still hard work for her; reading is hard work for some kids.  But it's so sequential and organized that she sees progress quickly.  She is also reviewing new words and concepts in so many ways (see above) that it seems to "stick" a little better than some past phonics programs we've tried.
She has happily put a sticker up on the progress chart six times so far.  And we're going to keep at it!
If you'd like to try it out, here are some FREE downloads!

(Disclosure:  I received a complimentary set of All About Reading Level 2 in order to write this and other honest reviews.  This post contains affiliate links.)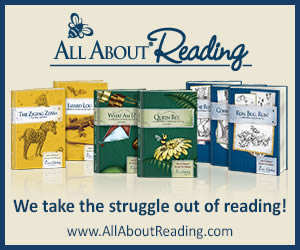 See the wonderful blogs I've linked up to here.