We have been using All About Reading in our homeschool since last year and just started All About Spelling in September.  I'd love to share with you today how I have set up my All About Reading and Spelling notebook to keep everything handy for the lessons.  One of the best features of All About Reading and All about Spelling is that there is no teacher preparation time required, but it sure helps to keep it all organized!
I use a simple 3-ring binder and slipped my All About Reading packet page in the front pocket.
Front Pocket
In the front pocket, I put things that I'll need later on, such as more letter tiles and magnets.
The first thing in the binder is a resealable plastic back that contains the reward stickers used for both All About Reading and All About Spelling and the "pull-down" tokens I use for Spelling.
A Close-up of the front pocket:
A close-up of the bag containing stickers and tokens:
Plastic Sleeves
The next items in the notebook are plastic sleeves that open in the top.  In these I place the activity pages in order.  I keep them together with paper clips and label them with the lesson number if it gets cut off.
More activity pages:
After the activity pages is another resealable bag where I keep paper clips and a pen.
Back Pocket
In the back pocket, I keep a sharp pair of scissors so I can quickly cut out the activity pages right before we use them, and a few more extra items.
I have found this system to be extremely handy in helping us with our lessons each day.  I just grab this notebook, the teacher and student books, card boxes, and dry-erase board with letter tiles to sit on the couch and do our lessons.  I'm so happy that my daughter who has dyslexia is improving in her reading and spelling abilities, as well as her confidence!
Do you use All About Reading or All About Spelling?  Do you have an organizational technique to share?  Please leave a comment!
Free Samples
And, if you don't already use this great curriculum, you can try it out with these sample pages!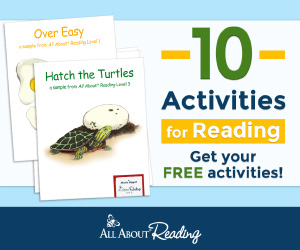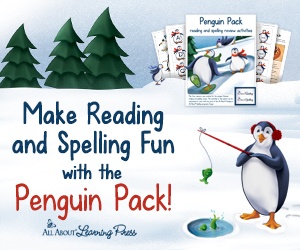 Related Content
(Disclosure: I received All About Reading 3 and All About Spelling 1 in exchange for writing some honest reviews.  This post also contains affiliate links.)