Today's guest post "Learn to Study the Bible as a Family in Fun New Ways" was written by author Danika Cooley.
Disclosure: I get commissions for purchases made through affiliate links in this post.
Do you worry the Bible won't resonate with your kids? Learn to study the Bible as a family in fun new ways!
Put on the Armor of God
"Did you put on your helmet of salvation?" I asked as my little ones finished marching around the room in their little shoes of readiness for the gospel of peace.
"What does that mean?"
"Salvation comes from Jesus!" They shouted, excited to know the right answer.
I nodded. "That's right. And, when you believe in Jesus and confess him with your mouth, he will save you from your sin. Who has their sword of the Spirit?"
Little hands shot in the air, invisible swords clutched in small fists.
"The Word of God!" Voices cried out in unison.
"Yes! Let's read our sword," I held the Bible aloft and smiled.
Therefore take up the whole armor of God, that you may be able to withstand in the evil day, and having done all, to stand firm.Stand therefore, having fastened on the belt of truth, and having put on the breastplate of righteousness, and, as shoes for your feet, having put on the readiness given by the gospel of peace. In all circumstances take up the shield of faith, with which you can extinguish all the flaming darts of the evil one; and take the helmet of salvation, and the sword of the Spirit, which is the word of God, – Ephesians 6:13-17, ESV
When our kids were younger, we did fun things to learn about the Bible, like putting on God's armor every morning.
The armor was pretend, but the lessons we learned were real. Rather than just memorizing Ephesians 6:10-18, we learned the different pieces of armor and as we would put them on, we'd talk about what each one meant, how God we really put it on, and how God would use it.
---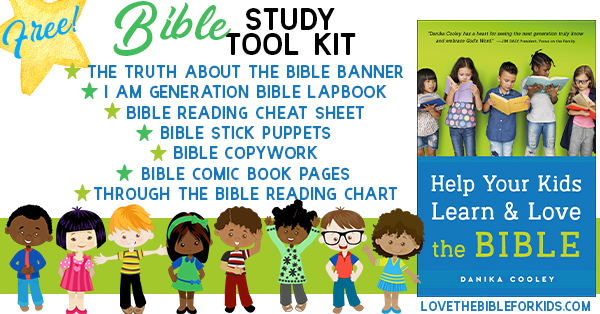 Grab your FREE Bible Study Tool Kit–over 130 pages of Bible resources for your family!
---
Learn to Study the Bible in Fun New Ways
Our kids are like little mirrors—especially when they are small. They tend to love what we love and get excited about what we get excited about. Our enthusiasm about the Bible and the time we spend in God's Word helps our kids feel excited as well.
Check out this video about Bible activities your kids will remember for a lifetime for more fun ways to study the Bible as a family!
You can learn to study the Bible with your kids in fun new ways. There are so many tools I talk about in
Help Your Kids Learn and Love the Bible
, but let's cover just a few.
If you have toddlers, you love these Bible Board Books.
Learn to Study the Bible as a Family
First, the way you read the Bible with your kids can go a long way toward making your Bible time fun and exciting. There is a big difference for our kids between a monotone, tired reading of a chapter of the Bible and an excited narrative reading. Both are valuable and God's Word always accomplishes the purpose for which God sends it forth (Isaiah 55:10-11), so on the days when we just muscle through a chapter, God will use that. But, if we can put some enthusiasm into our voices, use a puppet to narrate, or even use different voices for narration, it will catch our children's attention.
When our kids are old enough, we have found it helpful to utilize round-robin reading. We go in a circle, and each family member who can read a paragraph until we get through the chapter. That keeps kids involved and interested.
Pulling out sections of Scripture and explaining them to our kids in ways that really get them moving–like physically putting on the armor of God–is a fun way to work through the Bible with our kids.
With just a little effort, we can make the Bible truly come alive for our kids!
Help Your Kids Learn and Love the Bible
From Gena: The new book is out! I've now finished reading it and can heartily recommend Help Your Kids Learn and Love the Bible by Danika Cooley.
x
What I love most about Help Your Kids Learn & Love the Bible is that it's a very practical book. It's perfect for both Bible-literate moms who have been believers for decades and for brand new Christian moms or those who don't know much about the Bible at all. If you want your kids to learn and love the Bible, and therefore, to learn about and love Jesus, you should pick up this book. It will teach you about the different books of the Bible, what genre they're in, and how to read each in the right way (to avoid misinterpretation and heresy). It will give you tips on how to teach the Bible to different age groups: preschoolers, elementary, or teens. You'll also get some very practical ideas about how to start doing Bible reading with your family.
I'm so grateful that the book won't encourage you to do anything "weird." In fact, Danika includes an entire section on how not to read the Bible "weirdly." The last thing I'll say is that Danika doesn't encourage legalism. She says, "There are going to be days that you don't read the Bible as a family. The practice of family worship is just that—a practice. It's a spiritual discipline that we continue to make a habitual part of our daily lives. But it won't happen every day, and it's not law."
(Disclosure: I received a complimentary book in order to write this completely honest review.)
---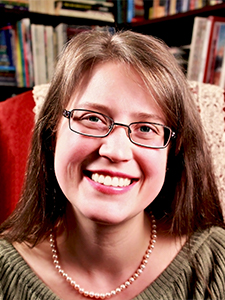 Danika Cooley's book Help Your Kids Learn and Love the Bible is your crash course on teaching the Bible to your kids. Danika is an award-winning children's author and Bible curriculum developer, and her popular Bible Road Trip™ is used by tens of thousands of families.
Learn more about Help Your Kids Learn and Love the Bible and grab your free 130-page Bible Study Tool Kit here.
---
Related Posts: