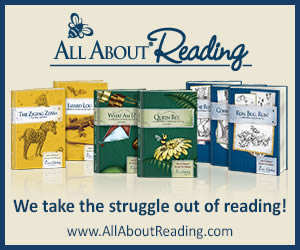 We have now finished 11 lessons from the wonderful reading curriculum All About Reading .  As we move along through it I'm understanding more about what this curriculum is trying to do and why I didn't need to do it with my older three kids.
1.   We are at the level in reading (it's called Level 2 in All About Reading) where my oldest kids just "took off" and didn't need my help reading any longer.  That didn't happen with my fourth child.  I'm still not sure if she has dyslexia or another reading disability, but I do know that All About Reading is helping her!  It is teaching her certain word rules, such as open and closed syllables and 3-consonant blends, and then gives lots of practice with those.
2.  I have also noticed that we cannot do one lesson in one day.  It's too long, and she gets too frustrated if I push for it.  We usually take 3 days to get through a lesson.  And, that's OK!
3.  She really enjoys the activity sheets that we do.  It requires her to review and work on reading yet more words, but the pictures and activities are fun so she doesn't mind as much.  🙂  I love that it's so easy to prepare.  I don't do anything ahead of time, but just cut out the sheets while we are doing the lesson.
Here are a few pictures:
To read my other All About Reading Posts, see here and here.
If you'd like to try it out, here are some FREE downloads!

(Disclosure:  I received a complimentary set of All About Reading Level 2 in order to write this and other honest reviews.  This post contains affiliate links.)
See the wonderful blogs I've linked up to here.