Disclosure: I received a free copy of this book in order to honestly review it here. I get commissions for purchases made through affiliate links in this post.
My kids and I recently did some activities from one of the Ann McCallum Books called Eat Your Math Homework. It is such a fun way to approach a math lesson!
What is Eat Your Math Homework?
Eat Your Math Homework is a paperback book of 45 pages. It's fully in color with such cute illustrations. There are 6 sections, each with its own math concept and cooking or food-preparation activity to do in order to illustrate it for the kids. Think of doing a science experiment to demonstrate the science concept–except this is for math! We really loved this book. I think it would be perfect for a math club or co-op class to use!
Here are the Activities in Eat Your Math Homework:
Probability Trail Mix
We put a certain number of small food items in each of the kids' bags. Then they pulled out an item such as Goldfish cracker, Raisinet, Chex cereal, or Cheerio. We kept track of who drew what each time and talked about the probability of drawing a particular item next.
The specific concepts taught in this chapter are theoretical probability and experimental probability, as well as percents. The "recipe" is the easiest in the book. I really think my kids enjoyed this one!

2. Fraction Chips:
The kids learned about the numerator, denominator, and equal fractions in this yummy activity. What we did was fry a tortilla in a pan. We put a little oil on it and some cinnamon sugar. (The recipe in the book said to use taco seasoning, but we switched it up a bit!)  Then I cut the tortilla into fractions, and, of course, the kids ate the pieces.
3. Fibonacci Snack Sticks:
First, I explained about the Fibonacci sequence for the kids. I wrote down the sequence on a piece of paper and tried to guide the kids into figuring out the pattern. Then, they took the snacks I provided and made a row of them on the table. (The recipe calls for putting snacks such as grapes, strawberries and pineapple chunks on skewers.)
4. Variable Pizza Pi
Bake a pizza for this one and learn about variables, constants, pi, and circumference. You'll measure the circumference of the pizza.
5. Tesselating Two-Color Brownies
This is probably the most yummy of the recipes in the book! Bake a rectangle pan of brownies, then divide them in half, sprinkling one half with powdered sugar to make them white. You'll then cut the brownies in equal triangles and make tesselating patterns with them.
6.  Milk and Tangram Cookies
You'll learn about the Chinese puzzles Tangrams when you make these cookies. This activity might be the most fun in the book because you can create your own "scene!"
Each chapter also contains an "Appeteaser," which is a word problem related to the lesson, that usually uses a different math concept. Most were too hard for my younger kids to understand, but would be awesome for the older kids.
There is a glossary in the back of the book that has definitions for 28 math words, such as term, percent, tesselation, and consecutive.
You'll also find a Math Review in the back which has review questions for all 6 chapters, as well as the solutions for the "Appeteasers" math problems.
Finally, there is an index.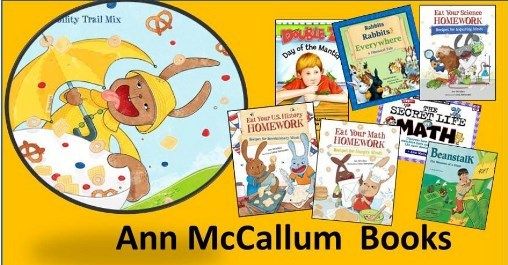 Here are some other Ann McCallum books to check out:
Related Posts: