I have recently had the privilege to use the Exploring Creation Field Trip Journal from Apologia Educational Ministries and am reviewing it for you today.  There are samples at the website–so check it out for yourself!
Field Trip Journal
The journal itself is a spiral bound notebook, with a thick cover. It's in full cover and each page is matte, so you can easily color or draw with markers or colored pencils.  Here are the different kinds of pages you'll find in the journal:
Cover page (This Journey Belongs to:)
Table of Contents
Ways for Teacher and Student to Prepare for a Field Trip
A Chart of Different Field Trip Ideas
Places I've Explored in My State (with lines to put the date and destination)
Places I've Explored in the United States (with lines to put the date and destination)
Places I've Explored in the World (with lines to put the date and destination)
Directions on how to use the "Field Trip" pages
10 "Specific Trip" pages
Directions on how to use the "My Special Spot" pages
My Special Spot pages for Fall, Winter, Spring, and Summer
Directions on how to use the "As I See It" pages
As I See It Pages on Movement; Reflections & Shadows Patterns, Textures, & Colors; Predators & Prey; Heavens; Earth; God's Signature in Creature; and 10 more unspecified pages.
Things I Love About it:
The graphics are incredible!  I love the thick paper and the lay-out of each page.  I also love the variety of pages that are included.  I think the "My Special Spot" pages are especially unique.  What you do is find a specific wild area (maybe in the forest) and go there each season writing, drawing, and photographing how it changes with the season!
There is also so much extra information about how to use the book and what kind of field trips to go on. I found the chart of different field trip ideas extremely useful. They had some really original ideas such as watching an autopsy, going to Hawaii Volcanoes National Park, and running for Mayor!  But also some really practical ideas that I haven't thought of before: visiting with a personal trainer, going to a cathedral, and going to a military base.
If you have used Apologia books before, you know that you can go to "bookextras" on the Apologia website and type in the password that is in the book to find all kinds of neat stuff!  The same is the case with the Exploring Creation Field Trip Journal.  You'll find hundreds of field trip ideas, classified both by location and type, as well as maps to print out, field guides, and ways to art journal!
How We Used It:
We like to go on at least one field trip per month, so it won't be long until our journal is filled up!  I decided to make it a Family Journal, but I'm sure lots of kids would love to have their own (and they're only $22, so that's within reach).  We went to the Milwaukee Zoo in May.  See below how we added the info to the field trip pages.
I know we'll be able to add a lot on our road trip to Canada and Maine later this summer.  We'll bring it along and write in it as we go!
What I Would Change About It:
The only suggestion I have is to have a couple of blank pages per field trip just to paste in photos or drawings.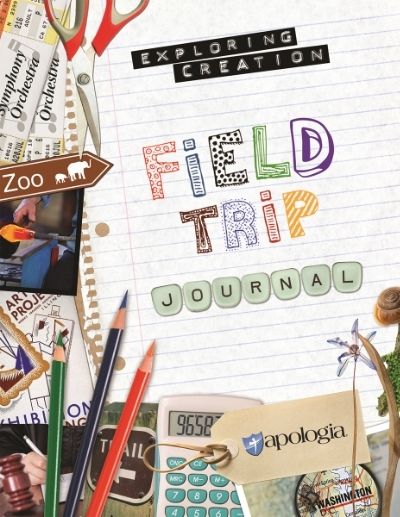 (Disclosure: I received a copy of this book in order to honestly review it here. This post contains affiliate links.)