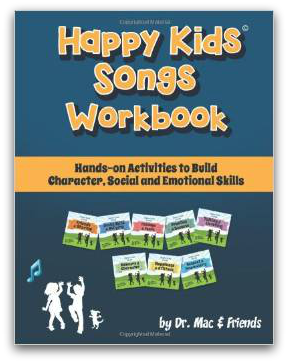 For the past couple of months we have been listening to some "Happy Kids Songs" by Dr. Mac and Friends and will be sharing a review today!  
We received THREE Song Sets via Download (15 songs total):
Friends & Sharing (Set 1)
Happiness & Attitude (Set 6)
Manners & Character (Set 7)
and
Happy Kids Songs Workbook: Hands-on Activities to Build Character, Social & Emotional Skills physical softcover book.
When I received the downloads by email it was very easy to burn them onto a CD.  If you haven't done that before, here's how I did it:  Download the free software called iTunes.  Then you click on the download of the MP3 and tell the computer to open it in iTunes (or you can drag the file into iTunes).  After that you create a playlist in iTunes with just the Happy Kids Songs on it.  When you put a blank CD into the computer, it will ask you to choose a playlist to burn.  You choose the Happy Kids Songs playlist, and that's all there is to it!  We kept the CD in the car and listened to it often.
The Happy Kids Songs have one purpose–to teach kids to have better character!  They are learning about how to treat others better, how to have good manners, and how to be a good friend.  The Happy Kids Songs website has lots of videos and song samples, so you can hear what they sound like before you buy.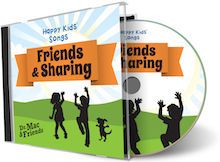 The first five songs were about being a good friend and sharing.  The songs are called "Sailing on the Seven Cs," "Everybody Wants to Find a Friend," Sharing Friends," Happy as Happy Can Be," and "Together."  My kids' favorite was "Sailing on the Seven Cs," which is a clever song about sailing on the good ship, Friendship!  The seven Cs are what helps us to be good friends: caring, consideration, commitment, communication, concern, curiosity, and cooperation.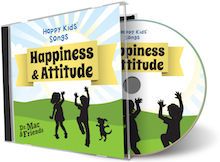 The next song-set was about Happiness & Attitude.  The songs are "Shake it Out and Dance," "Who Knows What's a Kudo?,"I Don't Understand," "Be Good to Yourself," and "Better Together."  My favorite of this set was "Who Knows What's a Kudo?". This song teaches kids how to find things to compliment others in and then encourages them to actually share those kudos!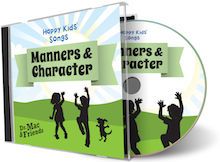 The last set we listened to was Manners & Character.  The songs were "H-o-n-e-s-t-y," "The Magic Word," "Quirks," "The Golden Rule," and "Six Little Kids."  The song "Quirks" is really fun.
What I liked:
As a professional musician myself, I tend to be quite critical of many CDs for kids.  Put bluntly, many are very poorly produced with annoying singing and bad musicianship.  Not so with Happy Kids Songs!  These are high quality!  I loved listening the kids sing.  They are so talented!  But the adult singers and instrumentalists were also great!  The songs are well-written with clever little ad-libs, and with a variety of styles and arrangements.  The purpose of the songs is also a great feature.  We want our kids to grow in their character.  Even though these songs are not specifically Christian, they do encourage Christian themes, such as the Golden Rule.
What I didn't like:
There are a few songs that talk about classroom teachers, so it's clear that these songs were specifically written to be used in a school.  They can be used in a homeschool, too, of course, but there aren't many songs that we reviewed that spoke of the kids' parents.  I also didn't like a few of the lyrics.  In the song "Quirks" which is helping kids recognize that all of us have quirks and we need to be patient and gracious with others.  But one line says "Some folks' tempers flare up But they're all just little quirks."  I don't believe a bad temper is a little quirk (like whistling while you work or having slicked up hair).  It's a character flaw which should be overcome.  The other line I didn't like was in "Six Little Kids." The song is really cute and tells the story of 6 kids who encounter an elephant for the first time.  They don't look at it, but just feel it.  So, the one that feels the elephant's side thinks it is a wall; the one who feels the tail thinks it's a rope, etc.  The song is teaching about how people have different points of view.  They say, "Which one of them is true?. . .All of them are true!"  Well, that's just not the case.  A person who mistakenly thinks an elephant is a wall or a rope is wrong.  Their point of view is wrong.  An elephant is an elephant.
Activity Book:
We also received the 124-page activity book which has all 40 songs' lyrics with accompanying activity pages like coloring sheets, mazes, word searches, etc.  There is also a section for teachers to do classroom activities to go along with the songs–dances, simple science experiments, games, etc.  It's a great resource!
Age Range:
This is geared for ages 3-8, but children ages 0-9 are likely to enjoy this.
Cost:
Each 5-song set is $4.95 or $.99 for a single song.  The 124-page activity book is $12.56.
Follow Happy Kids Songs on 
Facebook
, 
Twitter: @howsyourfam
, and 
YouTube
!