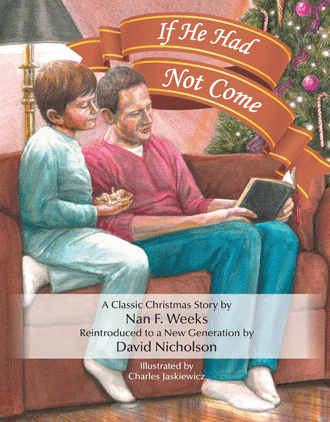 Are you looking for a new Christmas book to read to your kids this year?  I've found one for you!  Today I am reviewing 
If He Had Not Come
by
 David Nicholson.
This story is best for ages 6 and up and is a beautiful physical hardback book in full color.
David Nicholson has reintroduced the story which is a classic Christmas story by Nan F. Weeks.  It is illustrated by Charles Jaskiewicz.
I really enjoyed reading If He Had Not Come.  My first thought was that it reminded me of the movie "It's a Wonderful Life!" Remember what happens there?  George is faced with a new reality of what life would be like if he hadn't lived.  Well, in this story we see some evidence of how our world would be different if Jesus hadn't lived.  It's powerful to read about the differences!
A young boy is the main character and is excited about Christmas the next day.  Before bed he reads the Bible with his dad and they read John 15:22 where Jesus says, "If I had not come. . . "  He goes to bed thinking about that.  When he wakes up he goes downstairs and doesn't see his parents anywhere.  But there are other things missing as well: the Chrismas tree and presents and decorations!  He goes outside and finds that the factory down the street is running that day. When he asks the foreman why they are open on Christmas day, he says he's never heard of Christmas and doesn't know what the boy is talking about.  He goes from place to place trying to figure out what is going on, and no one seems to know anything about Christmas.  He runs to his church, but it's not there.  He runs to the Children's Home to watch the kids open Christmas presents, but it's not there either!  There is just a sign in each place that says, "If I Had Not Come."
He then sees a sick old man and tells him he'll run to the hospital to get him some help, but the hospital isn't there.  And the homeless shelter doesn't exist either.  Signs that say "If I Had Not Come" are everywhere.  Finally, the boy runs home and goes up to bed.  Soon he wakes up and realizes it had all been a dream, but a very powerful one!  Christianity  has made an enormous impact in our world and in our society.  Christians who care about others have built hospitals and homeless shelters and children's homes.  They have spread the love of Christ all around, and if He had not come, our world would be vastly different today.
After the lovely story with fine illustrations, there are several pages that a parent or teacher can go over with their children.  The discussion questions were quite interesting and I enjoyed doing these with my kids.  There is also a page that explains how to share the gospel and how to accept Jesus as one's Savior.
David Nicholson took a wonderful old story and put it in a great package to share with kids.  I'm sure you'll like this book just like I did!
The price is Casebound Hardcover for $18.95 and E-Book for $3.99.
Visit the If He Had Not Come Facebook page!