The Nutcracker
We had a lot of fun recently listening to Maestro Classics The Nutcracker CD. If you aren't familiar with Maestro Classics, they are a series of recordings that are written in the tradition of Peter and the Wolf by Prokofiev. In other words, you'll hear the great orchestral music while listening to a narrated story that goes with it.
You are probably familiar with The Nutcracker. It's a ballet that is performed every Christmas. The music is by Pyotr Ilyich Tchaikovsky. It was written in the late 1800s and first performed in Russia in 1892. The story it's based on was written by E. T. A. Hoffman. This particular adaptation is by Stephen Simon and is one hour long. The narrator of the story is Jim Weiss, who is certainly not a stranger to my kids since we often listen to other CDs he has narrated. The beautiful music is performed by the exquisite London Philharmonic Orchestra. There is music from every section of the ballet. The story flows seamlessly, and musical edits will be difficult for most people to pick out.
Maestro Classics The Nutcracker
Let me just tell you, I thought the Maestro Classics The Nutcracker was awesome! I have heard about this company for years, but have never heard any of their CDs before. We'll definitely be getting more of them!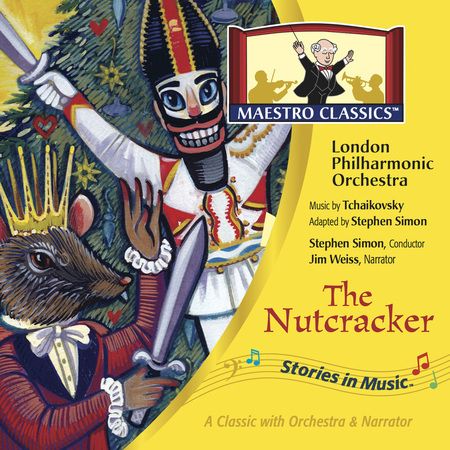 What I received was a physical CD with a study guide inside it.
Let me tell you a bit about the study guide. It's a full-color booklet of 24 pages that fit inside the CD case. The illustrations are by Ashley Wolff. You'll find a description of the 2 acts and all the scenes, with illustrations of some of the performers. Next is a "History of Ballet" section which tells when and where ballet started and how it has evolved over the years. There are a couple of lines of "sheet music" from the Overture. Then, there is an explanation of The Harp, with a photograph. The harp was loved by Tchaikovsky and is used in many of his ballets. You'll hear it beautifully played in the Sugar Plum Fairy Pas de Deux on this CD. Next in the booklet is a biography of Tchaikovsky. Finally, there is a word scramble, crossword puzzle, and biographies of the adapter/conductor Stephen Simon and narrator Jim Weiss.
Free Curriculum Guide for Maestro Classics The Nutcracker
You can also use a free Curriculum Guide for Maestro Classics The Nutcracker that's available online.  In it you can find all sorts of links, games, videos, printables, and activities to teach about ballet (including videos), history and geography, science (the nutcracker–simple machines), language arts (lots of fairy tales to read), art (crafts as well as artists to study), music, and math.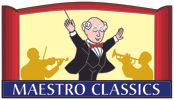 What are the other CDs available at Maestro Classics?
Peter and the Wolf
Casey at the Bat
Mike Mulligan and his Steam Shovel
The Tortoise and the Hare
The Sorcerer's Apprentice
The Soldier's Tale
Merry Pranks of Master Till
My Name is Handel: The Story of
Water Music
Carnival of the Animals
Juanita the Spanish Lobster
The Story of Swan Lake
(Disclosure: I received a copy of the CD in order to honestly review it here. This post also contains affiliate links.)