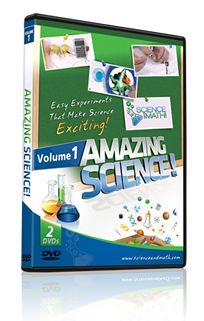 Today's post is a review from ScienceandMath.com called Amazing Science, Volume 1 (Physical DVD).

When we received these DVDs from ScienceandMath.com we were so excited to watch them. All my kids from 1st grade through 6th grade loved the science experiments (even though the vendor suggests it for 1st-3rd grades.) It fit in great with our other science curriculum this year because we are studying chemistry and physics. Most of the 23 experiments on the 2 DVDs were physics related.
See the trailer here:  https://www.youtube.com/watch?v=rUv3MY6ytr0

Here are a few of the experiments we did:  Color Changing Milk, Candle Suction Power, Lift Ice Cube with String, Matchstick Speedboat, Reverse Image with Water, and Floating Eggs.  You can see in the next picture that to do these 6 experiments only took a few items that I easily found in my home.
Candle Suction Power:  We put food coloring in a plate of water, put a lit candle in it, and covered it with a glass vase.  When the candle went out from using up all the oxygen, it suctioned up some of the colored water!
 Matchbook Speedboat:  I have pictures of the second part of this experiment.  Put pepper in a glass dish. Touch it with a cotton swab soaked with Dawn dish soap.
 Lift an Ice Cube with a String:  Put an ice cube in a glass and use a string to lift it out.  The trick is to pour salt on it, wait 10 seconds, and then it will stick to the string.
Reverse Image with Water:  Draw something on a piece of paper.  Look through the glass and it looks the same as it's drawn.  Pour water into the glass and the image is reversed!
Color Changing Milk:  Pour whole milk in a dish and drop drops of food coloring in it.  Touch the milk with a cotton swab soaked in Dawn dish soap and watch the milk move away!
 Floating Egg:  The egg won't float in a cup of plain water, but add salt and it floats!
One thing I love about these two DVDs is that you can see the experiments being done, rather than just reading about them. Even if you can't do them yourself, the kids will learn a lot about science just from watching them. Jason explains everything so well–about how to set up the experiment, what items are needed, where to buy the items if they are a bit unusual, and WHY the experiment works the way it does! The only thing I would say that I didn't like about these DVDs is that sometimes he gets a little long-winded and repeats himself. But if the focus is supposed to be for grades 1-3, I guess that's good for them! I also liked the fact that he doesn't use a lot of hype. He just lets the exciting experiments speak for themselves.  He also focuses on safety, using safety goggles and telling the kids which experiments to make sure there is a parent present (the ones with candles, for example.)
Still to do:
We just ordered some rare earth magnets (neodymium magnets) from Amazon so we can do three more of the experiments (Amazing Magnetic Force, Build a Motor With Lights, and Build a Motor #2). We just need to get a copper pipe and bare copper wire from Home Depot this weekend. We're studying electricity next week and magnetism the week after, so many of these experiments will be perfect to do at our co-op!  I also want to use the copper pipe to do the Unburnable Money experiment.  I bought some blueberry muffin mix, made the muffins, and saved the blueberry juice when I drained them.  Now, the kids can write secret messages and decode them for the Invisible Ink experiment.
I love that these experiments are for the most part easy to do, and they work!  The supplies were quite easy to find, and the kids could even do many of the experiments themselves.  My 8-year-old daughter just asked if we could get another set. So, Jason, please come out with Volume 2 soon!
The list price for Amazing Science, Volume 1 (Physical DVD) is $24.95, but they are on sale for 28% off right now:  $17.95!
Like ScienceandMath.com on Facebook.