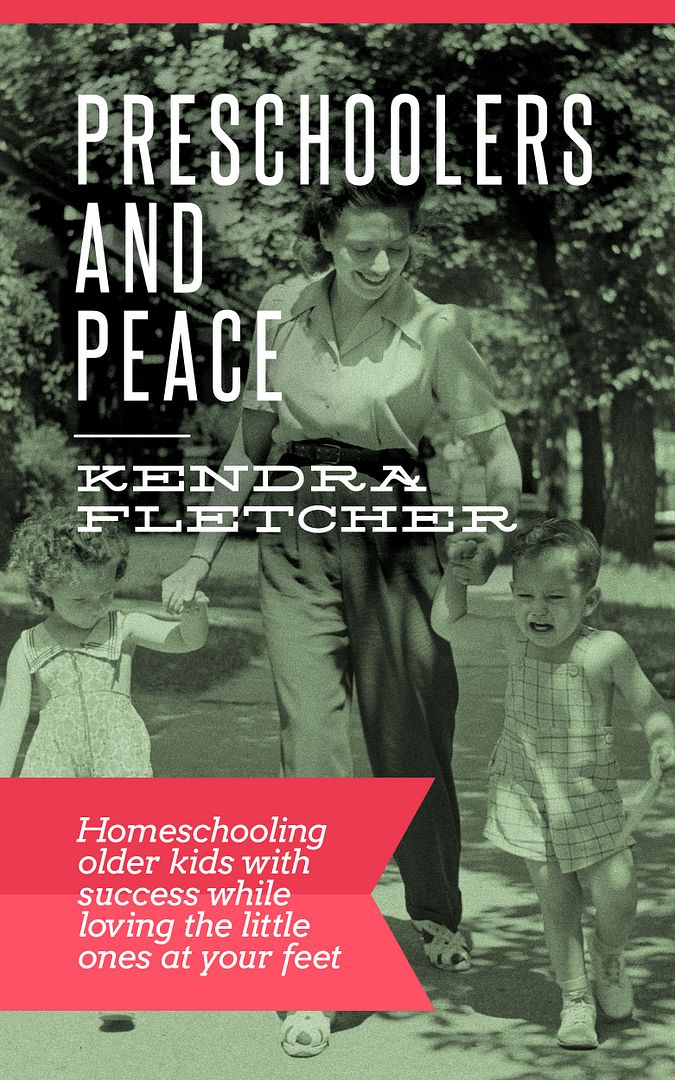 Today I am happily reviewing
Preschoolers and Peace: Homeschooling older kids with success while loving the little ones at your feet
.  It's an e-book in PDF format written by Kendra Fletcher from
Preschoolers and Peace
.
This helpful resource is for any mom who is homeschooling an older child with a preschooler (or baby or toddler) and only costs $2.99!
It's an easy-to-read e-book and is 47 pages long.  It has a few pictures sprinkled throughout.
When I first started blogging 8 1/2 years ago one of the first bloggers I started connecting with was Kendra Fletcher.  I was drawn by the name of her blog: Preschoolers and Peace.  At the time I had 4 children ages 5 and under, with another baby soon to be born.  I knew we wanted to homeschool them, but I didn't know how in the world I would actually be able to do it!  I looked to people like Kendra who were a few years ahead of me on the road and had some wisdom (actually, lots of wisdom!) to share.  Kendra ended up with 8 kids, just like me!  Her oldest 2 are now high school graduates and the youngest is 5.  My oldest is 13 and youngest is 2, so, I'm still looking her for wisdom!  And I have to tell you one more thing before I review the book.  I got to meet Kendra in person this year at the 2:1 Conference (a blogging conference for homeschooling moms).  She came all the way from California to Chicago.  It was a blessing to finally meet her and to hear her speak.  🙂   And, she's just as wonderful in person as online!
Here are the chapters that you will find included:
What a Homeschooling Mom Needs
Preparing Yourself to Homeschool Older Kids With Little Ones Underfoot
Planning Around Preschoolers
How Do I Keep Them Busy?
What Does a 2-Year-Old's Day Look Like?
How Do I Get Any Preschooling Done?
How Not to Just Kill Time Circle Time: Or How We Pull the Little Ones In
Preschool Boys
When All of Your Kiddos Are Preschoolers
Preschool Chores
Planning for Preschool
When Mama is Worn Out (or Pregnant)
Meal Planning 101
What you'll find in the Preschoolers and Peace book is some practical advice and heartfelt encouragement.  I loved reading about her struggles and how she had to change things along the way.  One of the best chapters was about different activities to do with (or give to) toddlers to keep them occupied when you need to concentrate your teaching on the older kids.  I've used a lot of those ideas, but she listed some I had never thought of!  I also loved how there are so many links to online articles to give additional information to the topic being discussed.  The e-book is short, but it would be way longer if she included all the linked-to articles in it!
In one chapter Kendra references Circle Time.  I learned about this years ago from Preschoolers and Peace and have done it in various ways ever since.  Basically, it's simply getting all your kids together to teach them something as a group.  This year we do it as soon as I get my 2-year-old down for a nap.  It includes my 5 middle kids and we do memorization, Bible reading and study, science and history reading, and literature read-alouds.
I really can't think of anything I didn't like about the book.  It's short and full of great information about homeschooling multiple ages from someone who knows what she's talking about.  It's well worth the money!

Be sure to connect Preschoolers and Peace on Social Media!
Facebook: https://www.facebook.com/PreschoolersandPeace
Twitter: https://twitter.com/KendraEFletcher
Pinterest: http://www.pinterest.com/kenj/
Google+: https://plus.google.com/+KendraFletcher/posts
You Tube: https://www.youtube.com/user/preschoolersandpeace