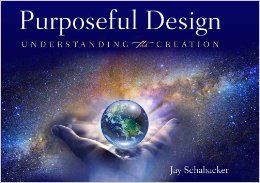 Purposeful Design: Understanding the Creation by author Jay Schabacker is a new book we have been reading in our home lately, and I'm happy to review it for you today.  You can see more about it at the Purposeful Design website.
There are several ways to describe this beautiful book:
It's a great Coffee Table book, for guests to pick up and leaf through.
It's an informative and enjoyable book for reading aloud to your kids about our God's awesome creation.  (My 9-year-old daughter especially enjoyed me reading it to her.)
It's a book that can be used by junior high or high school students who are studying science.

The book is usable with all ages, is a sturdy hardback book of 91 pages, and costs $18.95.  You can
purchase it here.
One of the best parts of the book is that it's full of beautiful pictures!  There is lots of Scripture sprinkled through as well.
The format of the book is that there are 7 chapters–one for each day of creation.  Then the author goes into detail about some of the things that were created on that day.
For each chapter here is what you'll read about:
Day 1:  God created the heavens and the earth, the planets continuing their orbit defies the 2nd law of thermodynamics.
Day 2: God created the atmosphere and water, how the rain cycle works.
Day 3: God created the dry land and vegetation, why apples are so healthy for us, ways in which plants are useful.
Day 4: God created the sun, moon, and stars; how the suns rays and earth's tilt give us our seasons, why sunrise and sunsets change from day to day; using this information to build Stonehenge and the Ground Zero Memorial; the benefits of our moon; ocean tides; how leatherback turtles take advantage of the tides; stars and celestial navigation.
Day 5:  God created the birds and fish, how birds and fish benefit us, birds' instincts, salmon, how fish swim, why ice floats, funny-looking animals in the ocean.
Day 6: God created land animals and people, domestic animals such as camels and cows, amazing uniqueness of humans, our amazing bodies (including the appendix), cells, brain.
Day 7: God rested and taught us to rest, too.
The only thing negative I have to say about the book is that some of the photographs are not high quality (are somewhat blurry), as you might see in the photo below.
Overall, I am very happy with Purposeful Design and am glad to have it in our home now.  Some parts are very detailed, which can be great for older kids and adults to learn some amazing things you never knew before!
Also included to use with the book is the Young Explorer's Club curriculum, and it's free!  You get student pages that are fill-in-the-blank, and a teacher's guide with all the answers.  Here are a couple of pages from the Young Explorer's Club:
Another child just wanted to draw the days of creation as I was reading about them:
Visit Jay Schabacker, the author, on social media!
Blog: www.Jayschabacker.blogspot.com
Facebook: www.Facebook.com/pages/Jay-Schabacker
Twitter: www.Twitter.com/Jayschabacker
LinkedIn: Jayschab