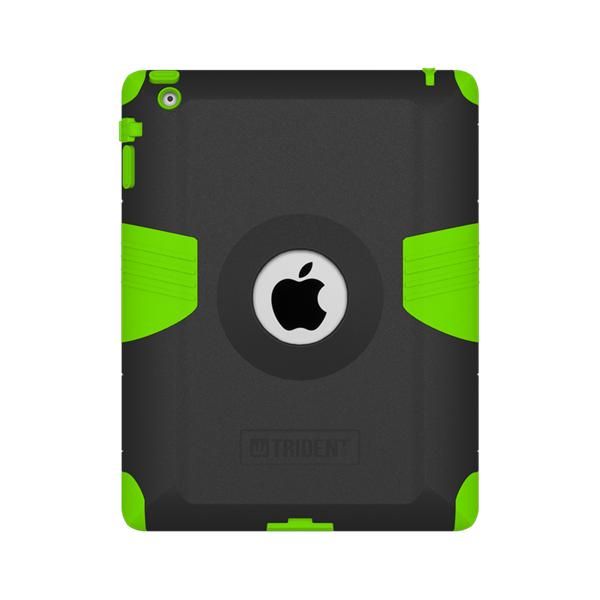 Today I have a review of an awesome Rugged, Tough, and Protective Case for the iPad.  The particular case I was able to get and use for the last 6 weeks was the KRAKEN A.M.S. CASE FOR APPLE IPAD 2/3/4 for Devices: iPad 2, iPad 3, or iPad 4 from the company called Trident Case.
The first thing we noticed was how easy the case was to install.  My 12-year-old son was with me at the time and wanted to put it on the iPad himself.  So, I watched him install it in less than a minute (without reading the instructions!)  Later I realized that there was some dust under the clear, protective screen.  I removed the case (that was pretty easy to do as well, although it would be difficult for a young child) and cleaned it with non-abrasive glass cleaner.  Then I installed it myself.  See in the picture below that the case is actually 3 separate pieces.  The first piece contains a clear screen.  We had no trouble at all getting the iPad to read our touches through the screen.  The second piece is colored (and comes in a variety of colors–I got green) and is flexible silicone.  The bottom piece is a heavy duty strong piece of hardened polycarbonate.  The available colors are black, blue, red, pink, Trident green, purple, orange, and maroon.  There are also attachments that are available from Trident Case that work with the Kraken case.
There are built in openings in the Kraken case for iPad for the camera, headphone jack, microphone, etc.  Some have little flaps so that they close over to keep dust out when they aren't in use.  There are only two things I didn't like about the case.  One was that the little flaps didn't always stay closed.  I'd be fine without those.  Second was that the case made the iPad much heavier than before.  (My oldest son had one more complaint.  His headphones wouldn't fit in the headphone jack with the case on, and the case is too cumbersome to take on and off just to play the headphones occasionally.  The earbuds that came with the iPad fit in with the case on.)
Why is the Kraken Case so heavy?  Because it's so strong.  It has been military tested with dropping, dust blowing, vibration, rain, and wind!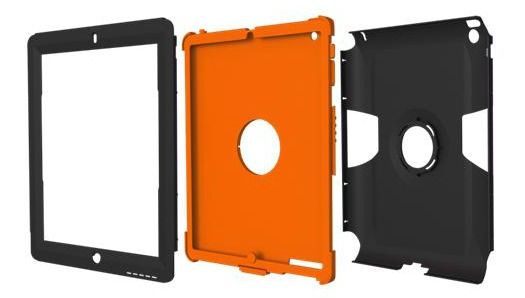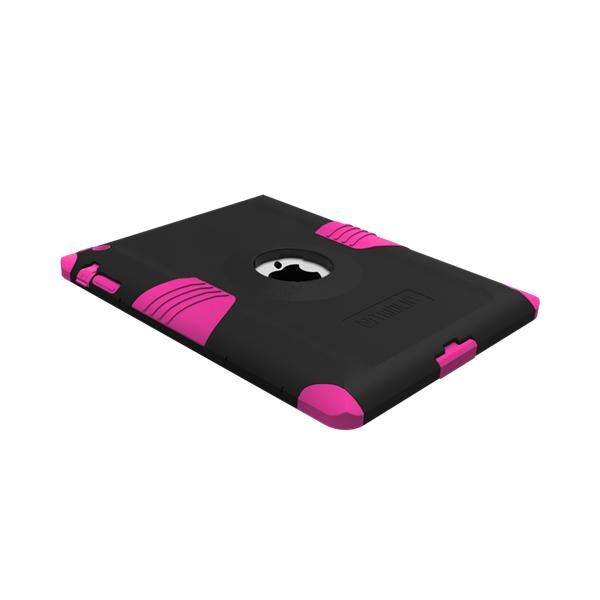 How we used it:
We installed the case, removed it, and reinstalled it.  We then kept it on the iPad for 6 weeks.  My husband, 7 kids, and I used it during that time.  We had no problems at all!
Age Range:
These are for all ages.  They are especially nice for those of us with young children so we don't have to worry about our devices getting broken!
Price:
The KRAKEN A.M.S. CASE FOR APPLE IPAD 2/3/4 for Devices: iPad 2, iPad 3, or iPad 4 is $69.95.
The bottom line:
I don't fear my kids using my iPad anymore.  I used to constantly say, "Sit back on the couch. Be over carpet.  Don't walk around with it.  Be careful!  If it falls there, the glass will break."  Now, I know it won't break if it falls!  The heaviness of the case is totally worth it for me to know that my iPad is protected.  Yeah!  I've decided not to remove the Kraken case to put on my old one.  It stays!
You can find Trident cases for a variety of devices such as iPhones, Kindles, and the Samsung Galaxy Note–not just iPads.