Out of the Box Games
 produces a game called 
Snake Oil – Party Potion
(for ages 8 and up) that we are reviewing today.  My kids and I really enjoyed playing it!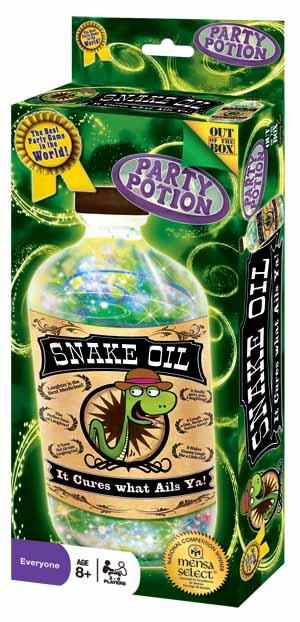 Here's how it works:
You need 3-6 players.  The kids can be as young as 6 if they can read.  My kids ages 6, 8, 9, 11, and 13 played the game, and I did, too.  There are 2 types of cards–Customer Cards which have the name of a type of person (such as a parent, toddler, lifeguard, waitress, doctor, or clown) and Word Cards that have a single word on them (such as flame, curtain, massage, diary, bus, trampoline, and passion.)  One person is the customer and the other players choose from their 6 cards two that will work together as a product for the customer to buy.  Then the customer picks the best one.  The winner is the one with the most customer cards at the end of a certain number of rounds.  The game can take as little as 15 minutes to play, and can be quite lengthy if you decide to keep on going!  All my kids caught on really fast and enjoyed playing it.  The box contains a plastic holder and the cards.
My 8-year-old son was really good at Snake Oil Party Potion.  He's very clever!
Here was a product I tried to sell the Camper.  It's a Trampoline Trail, so "When you're out camping and hiking and you get really tired, you can just switch to the Trampoline Trail and bounce your way down the trail!"  I won that round!
Here my daughters are working as a team to help each other read and understand the cards.
In this scenario the customer was a Fire Fighter.  The three salepeople tried to sell him a "Pants Coat," a "Mist Chair," and a "Spray Sponge."  The Mist Chair won that round!
The makers of Snake Oil Party Potion say that there will be smiles and laughs all around, and we found that was true!
How this game can be used in an Educational Setting:
Snake Oil Party Potion reminds me of an educational game we play with our Public Speaking class.  Kids are given an object and have to come up with clever ways to "sell" it to a specific type of customer.  We use this game to help kids to think fast on their feet.  It's a type of improvisation or limited preparation activity.  So, I'm definitely going to bring this game to use when we meet with our class!
How this game can be used at a Party:
Instructions for this are actually included in the Snake Oil Party Potion box.  The customer card is chosen for the crowd.  Three people are chosen to come up with an object to sell.  The crowd then votes on the best "object."
What I didn't like:
There were 2 cards included that I decided to remove, just because they're in bad taste (snot and butt).  Also, the card for "satellite" was misspelled "satelite."
Price:
Snake Oil Party Potion sells for $14.99.
There is another version called Snake Oil for ages 10 and up.
Check out Out of the Box Games on Social Media:
Facebook, Twitter, and YouTube!