Today I'm happy to tell you about a wonderful website called 
FishFlix.com
 which has many Christian movies for sale. My husband and I were blessed to watch the DVD 
Faith of Our Fathers. 
It's from the studio that brought
God's Not Dead
.
We had seen other movies featuring some of the same actors and were excited to see what this one would be like. Some of the actors in Faith of Our Fathers are David A.R. White, Kevin Downes, Candace Cameron Bure, and Rebecca St. James.
It's rated PG and has a running time of 95 minutes.
Here is the synopsis:
A young man is about to get married, and his mother has just died. When cleaning out her garage he finds a box of things belonging to his father who had died in Vietnam. Through something he finds in the box, he is able to connect with another man about his age and finds that their fathers had been friends in Vietnam. The first man travels to meet the other so he could learn things about his dad he never knew before. He has letters that his dad wrote about his friend–this young man's dad. The two sons take off on a road trip to the Vietnam Wall and enter not a few adventures. There are some funny scenes and some sad and poignant scenes. Some of the story ends up being heavier than I expected. It's really a great story.
What I liked:
Faith of Our Fathers has a very intriguing and good premise of a story: two sons searching for their dads, and two dads talking about their sons- whom they would never see again. I loved the redemption message as well. One dad and one son are Christians and share God's love with their friends, who are greatly in need of the Savior. I loved how the movie travels back and forth between the two time periods (the modern day sons and the Vietnam dads).  The scenes in the jungle of Vietnam did a good job of showing how difficult it was to be in that situation. We also see how 2 young boys losing their dads in the war affects them even 25 years later.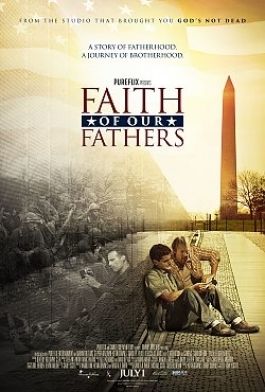 What I didn't like:
Unfortunately, like so many other faith-based movies, this one was a "B" movie. It was a bit frustrating to watch. I'm sure many others wouldn't care, but it did bother my husband and me. Some of the acting wasn't very good. There were scenes that were supposed to be funny, but the timing was off, so we didn't laugh. The filming of certain scenes looked fake (like the rain and driving in the car).  There were also a few plot holes; I could explain them away, but would rather not. Overall, I'd recommend it, though.
You might want to check out some of these other inspiring movies:
Do You Believe?
Little Boy
When Calls the Heart, Heart of the Family
Living Waters: Intelligent Design in the Oceans of the Earth
Social Media:
Facebook: https://www.facebook.com/fishflix
Twitter: https://twitter.com/christiandvd
Pinterest: https://www.pinterest.com/fishflix/
Google+: https://plus.google.com/+Fishflix/
YouTube: https://www.youtube.com/user/familychristianmovie