Are you looking for a great way for your kids to learn or practice their math facts?  Today I'm happy to review UberSmart Software, which has created the product we used called
Math facts are so important for kids to learn.  They can't easily go on to the next concept in math if they are still trying to remember them.  If you aren't sure what I mean by "math facts," it's knowing their basic addition, subtraction, multiplication, and division problems by heart.  They should know the answers to 6+7 or 9 x 3 without having to think at all.
How do they accomplish that?  They could use paper flash cards or a computer game.  They can take written tests or have someone quiz them orally.  Or they could use  UberSmart Math Facts.   
UberSmart Math Facts is actually not a fancy computer game.  It's a simple no-nonsense and straight-forward way for learning and practicing math facts.
It's specifically geared for grades K-6, but any age that needs math facts reinforcement can utilize it. 
This is a DOWNLOADABLE SOFTWARE for mastering math facts. It can be used by eight or more students and will enable your student to practice the following:

*Dot Cards (like adding domino faces)
*Keyboard Entry (Ten-Key Numbers)
*Flash Cards (add, subtract, multiplication, division)

*The Addition/Subtraction goes up through the 9s
*Multiplication/Division has the option to set it to go up to 9's – 20's. 

SYSTEM SOFTWARE REQUIREMENTS: This is for Windows 7, 8, XP and Vista only.  There isn't a Mac version.
Take a look as some of these screen shots to get a better idea of what you'll find in UberSmart Math Facts.
Here is a test.  You see the previous (just completed) problem first, then there is the one the student is supposed to answer by typing, and third is the next problem.  This particular test is testing the "12's."  You can choose which numbers need work, just like you can choose which operation (addition, subtraction, multiplication, or division) needs work.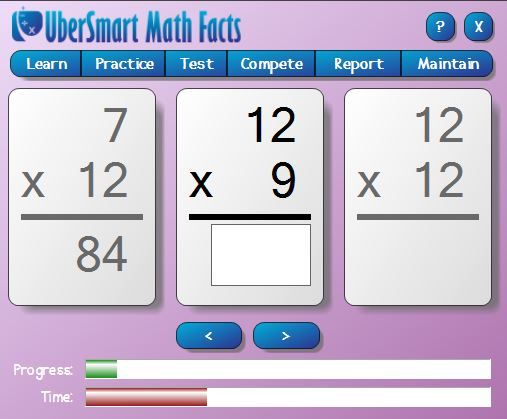 This screen shot is giving the child the opportunity to practice typing numbers fast and correctly.  They can't "master" without typing the answers accurately and quickly.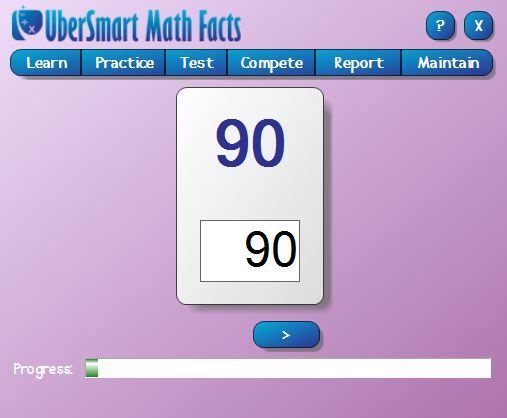 The next screenshot shows a Practice screen.  When kids are just learning a new fact, they can use this screen which first shows the flash card without the answer.  They can try to answer it out loud, and then hit "enter" to see what the answer is.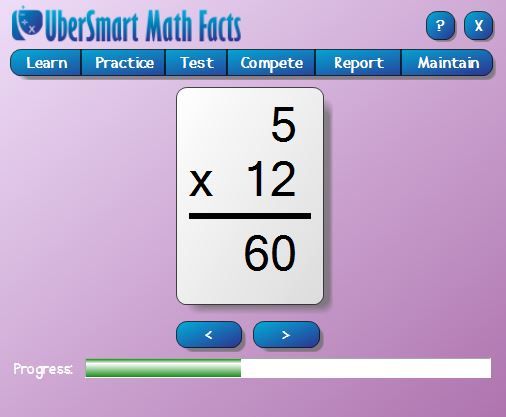 This next screen is fun and reminds me of dominoes! This might be great for younger kids.  (The ones I had using it were 6 and 7 years old.) 
Overall, we really liked UberSmart Math Facts, and I'm so glad we have it now!  I have all 8 of my kids listed in it so I can keep track of their progress and know which facts still need to be worked on.  We had trouble at first getting the software to work, but the developer was extremely helpful and worked on it for a few weeks to get it updated.  It now works great!
The cost is $24.95 for a

 Family License. With this license you can run Math Facts on all the computers in your home! You also get free upgrades and support.