If there is one subject that isn't addressed as much in homeschooling as in the public school, it would be "bullying." I am happy to review a book today that addresses that issue: Zippy's Club by Candida Sullivan.  (And there's a giveaway, so read down to the bottom of the post!)
The author Candida believes in miracles. She was born with a rare condition called Amniotic Band Syndrome, which generally causes death in most babies before they are born. She knows it is a beautiful blessing she survived and wants to show the world that her scars are not a punishment, but instead are a wonderful expression exemplifying God's love and mercy for her life. She believes God spared her for a reason and wants to spend her life telling of the hope and love God placed inside her.  The Amniotic Band Syndrome caused deformities in her hands, feet, and skin.  And as a result Candida was the recipient of bullying.  Unfortunately, she decided to bully others as well, until she realized the best way to deal with it was to treat others with kindness.
In her third book about Zippy, this sweet zebra with no stripes is trying to create a club to fight against bullying.  He has a list of "chores" for all his club members to do in order to make the world a better place, so they decide not to stay.  Later he finds out that the Toby the lizard is being bullied by the snakes.  Toby thinks the best way to fight back is to learn to be mean like they are.  Zippy decides to go to talk to the snakes.  But they bully him as well–and it goes too far when they push Zippy off the cliff.  Now all the animals realize that they must stand up to the bullies and do what is necessary to make the bullying end.  Thankfully, Zippy is alright, and the club starts strong!
The book was a wonderful introduction about bullying for my kids, ages 5-10.  They saw it in action in the story, but there were also pages in the back of the book for parents or teachers to lead discussions about bullying.  I did this with my kids.  We talked about what it is, how it affects people, and what to do about it.  We also talked about how being a bystander is not acceptable.
Another wonderful thing about the book is that they encourage you to start your own Club to fight against bullying.  They even have a Zippy Club Kit which has a script of a play, a CD of masks for the characters, printable coloring sheets and stickers, a poster, badge, and membership certificate!  You can get the kit by emailing [email protected].
Finally, I LOVED the illustrations!  Jack Foster is a wonderful illustrator. Your kids will be enchanted.  You can see more about Zippy at Candida's website.
See below for other books by Candida.
Zippy's Big Difference is a story about
how Zippy the zebra came to
appreciate that which makes him
different from others. It deals with
the emotional struggles facing
children with disabilities and tackles
some of the tough spiritual questions
they have.
Zippy and the Stripes of Courage is a
story about how Zippy the zebra
came to accept himself for who he is.
It teaches children to celebrate one
another's differences and to treat
others as they themselves want to
be treated.

Underneath the Scars is a journey of
emotional and spiritual healing
associated with physical deformities.
You will laugh, cry, and reflect as
Candida shares her story and the
woman underneath her scars.
And now– a Giveaway of Zippy's Club!  Enter through the Rafflecopter app below.  Winner will be chosen Tuesday 5/27/14 and will have 24 hours to respond to my email!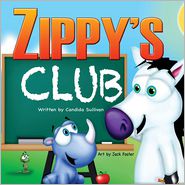 (Disclosure:  I received a complimentary copy of Zippy's Club in order to write this honest review.  This post also contains affiliate links.)