[Today's article "Terrific Resources for Teaching About American Presidents" was written by contributor Michelle Habrych.]
I have always been fascinated by the office of the President of the United States and the history of the men who have served in the role. A few years ago, I used that interest to teach my kids and those at our homeschool group about the presidency. (Read about why you should teach about American Presidents here.) With President's Day coming up, I'd like to share some Terrific Resources for Teaching About American Presidents.
Disclosure: I get commissions for purchases made through affiliate links in this post.
Lapbooks
Knowledge Box Central has a series of lapbooks on the presidents, which I have contributed to making! Check them out! Lapbooks are a great way for students of all ages to learn about a topic of interest. If you've never used them, consider lapbooks as a scrapbook of learning. KBC's lapbooks include a thorough study guide to provide a complete unit ready to use. George Washington's birthday is Feb. 22, so why not study our first president with a lapbook?
Project Pack
Homeschool in the Woods has a great U.S. Presidents Project-Pak.
This Project-Pak for grades 3rd-8th provides you with ten hands-on resources (179 pages!)to help you in your studies:
• Wall-Size Timeline Figures
• Notebook Timeline: "U.S. Presidents Portrait Gallery Timeline"
• Coloring Pages
• Report Pages
• Copywork: "Famous Quotes from U.S. Presidents"
• Profiles of Presidents of the United States
• Fun Facts about the Presidents
• Newspaper: "The Presidential Post"
• "Political Slogans" Campaign Buttons & Posters
• File Folder Game: "Presidential Pursuit"
We love the Presidential Pursuit file folder game the best!
Radio Dramas
Radio dramas are a fun way for students to learn about the president. Two dramas come to mind immediately: Mr. President and You are There. The site Old Time Radio Downloads has 111 of the Mr. President shows available for free online listening. The show dramatizes a little-known story about the presidency, such as the secret cancer-removing surgery of one Commander-in-Chief and the near-fatal food poisoning of another. We have found these very entertaining and informative. The show aired from 1947-1953, so there are no stories of presidents after that time.
You are There is an old radio drama done as an on-the-scene news reporter taking you to the event as it happens. You can listen online to many different historical events, not just president-themed ones, through this site . Presidential moments to experience through You are There include the assassination of Abraham Lincoln, the impeachment of Andrew Johnson, and the election of Thomas Jefferson.
Timeline
Create a Timeline of the Presidents with this one from Homeschool in the Woods.
It includes:
• Wall-Size Timeline Figures
• Notebook Timeline: "U.S. Presidents Portrait Gallery Timeline"
Song to Memorize the Presidents
If you want to challenge your kids to memorize the presidents in order, the Animaniacs put together a crazy song that will have them singing Washington through Clinton. It's on YouTube here:
Notebooking
Dover Publications offers coloring books of the presidents and first ladies, as well as Presidents Facts & Fun Activity Book. When I taught my class, the students used these to enhance their study. Also in my class, the students used notebooking pages to record facts about the presidents. There are many different versions available for free online.
Get Free President's Day Notebooking Pages here: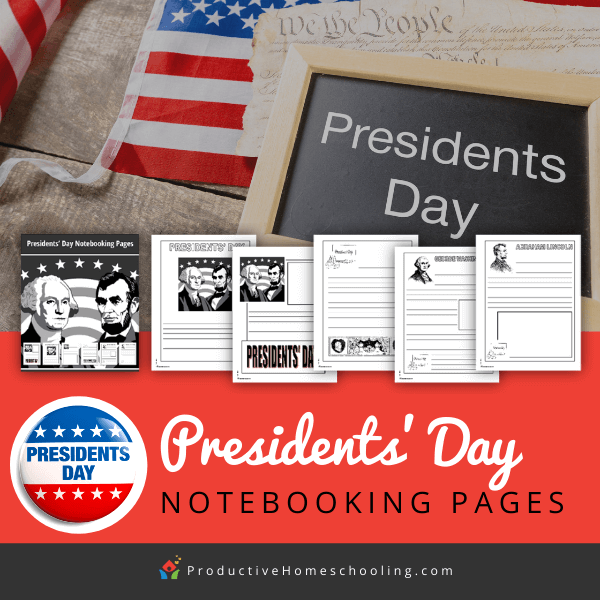 Books
If you have younger students, I highly recommend So You Want to Be the President by Judith St. George. The book is silly but will have kids remembering facts about the presidents. There is a Scholastic video version of it here narrated by Stockard Channing.  The video, which includes an epilogue to include the 2000 election results, is 27 minutes long.
Games
Games make any subject more fun. You may be able to find puzzles to enhance your study; I did a few years ago in Target's $1 section.
Oriental Trading used to offer "Color Your Own All About the Presidents" posters. My class did these for our end-of-the-year presentation. Oriental Trading used to have a matching game, but it has been discontinued so you could make your own. Print out two copies of each president's photo with his name and number, and glue them to two index cards. When you're done, you'll have 90 cards (two for each president). If you want, take the time to put some interesting facts on the cards too.
Presidential bingo cards can also be found in many places online to print for free.
As mentioned above, the Presidential Pursuit file folder game is a fun one to play.
And here is the round President's puzzle you see in the picture below.
Videos
Older students may enjoy watching the History Channel's The Presidents. It is available to view on YouTube here.
Younger students may enjoy Disney Educational's The American Presidents, which may be viewed on YouTube in individual president clips.
More Books
There are many great books to check out on the topic of the presidency and the individual presidents. Kathleen Krull wrote Lives of the Presidents: Fame, Shame (and What the Neighbors Thought). It's a great way to get an overview and brief story about each president through Obama. Jean Fritz has written some books about our commanders-in-chief, including The Great Little Madison, George Washington's Breakfast, and Bully For You, Teddy Roosevelt. There are also many presidents in the Who Was series.
Online Unit Study
Get a free Online Unit Study about the U.S. Presidency here
President's Day art lesson
**What is your favorite way to study American presidents? Please share in a comment below!
Related Posts:
Michelle Habrych is able to recite the presidents in order and tell you which president is which by number—on a good day. She loves learning more about presidents by reading their biographies. She is currently listening to the audio book of George W. Bush's Decision Points and reading Bob Dole's Presidential Wit: A Collection of Humorous Anecdotes and Quotations.