Follow my blog through email so you won't miss anything!
As I was considering what to write today about Classical education for a link-up, I found a post I had written in 2008.  I changed some things to reflect what we've done since then.   Please enjoy this "blast from the past!"
Probably the best way to start is to explain why I started homeschooling in the first place.  I started out as a public school teacher at a junior high (7th-9th grade).  It didn't take me long to understand some of the inner workings of that system–things most parents never even think about or consider.  I was amazed at the discipline problems and how little time I was actually able to teach the kids.  Even as a strong Christian I felt strapped in how I could express my beliefs, and usually didn't do it at all.  There was so much wasted time.  There was so much crime (we even had a full-time city police officer on campus at all times.)  I would look up at a few dedicated, sweet kids in my room and think, "It's so sad that you are in this situation; I never want my kids to be in a place like this if there is an alternative."
But I didn't know of any alternative, except for private school.  I had still never heard of homeschooling.  Then I had a child transfer into my class midway through the year who had been homeschooled.  I was very skeptical about it.  And the teacher next door to me told me her daughter was homeschooled because she had severe learning disabilities.  I thought, "How can you be homeschooling her when you are teaching here all day?"  I later learned that her husband actually did shift work, so he was home with the girl during the day; she was old enough to do a lot independently, and there is so much flexibility to when you can learn (evenings and weekends).  My paradigm was beginning to shift.
After three years I couldn't handle the junior high environment anymore and went to teach at an elementary school.  It was brand-new.  The teachers and administrators were wonderful.  I had a full-time aide in my classroom to help me at all times.  You'd think this would be the perfect situation for the sweet little kids!  But I was seeing what was wrong there, too.  The children spent SO much time standing in line in the hallway, waiting for the bathroom or P.E. or lunch.  It was such a waste. The children had to be treated as a group and taught as a group, instead of as individuals.   And there were those teachers that were screamers or so focused on the problems in their own homes they really couldn't take care of 22 young kids at school very well.  The saddest moment for me was on the last day of school I looked around at my kindergarteners (I taught K-4th grade music and had 600 students) and realized how few of their names I knew.  If I didn't even know their names, how could I be teaching to their needs?  I was pregnant by this time and decided to spend some serious time investigating homeschooling.
The first method I studied was about Classical Education.  I read Dorothy Sayer's article "The Lost Tools of Learning" and was really inspired by it.  Another book that I read soon after was For the Children's Sake by Susan Shaeffer Macaulay.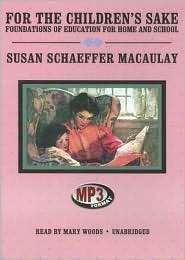 What an incredible book!  I learned so much about education and was introduced to Charlotte Mason and her wonderful ideas.  (More on her in amother post!)
I went to my first homeschool convention (Illinois Christian Home Educators, www.iche.org) when my oldest was 17 months old and my 2nd child was 6 weeks old.  I was blown away and brought my husband with me the next year.  He was blown away, too!  We're now 100% pro-homeschooling and pray that the Lord will allow us to continue until our children graduate from high school.
One of the seminars I attended at that first homeschool convention was with the Bluedorn's.  They said many things that really resonated with me and helped to form my philosophy of education, but one was concerning delaying formal math.  They explained that forcing the symbolic math before the child's brain is prepared for it can really cause problems.  (They have lots of data on this at their website, www.triviumpursuit.com).  As they were talking I realized that's what happened to me.  I never really understood math.  I could memorize all the rules and formulas and tricks in the word problems and get straight A's.  But I never enjoyed it or really "got" it.  I took college algebra (which is like Algebra I) at 20 years old and finally understood what they were talking about!  I told people that my brain wasn't mature enough to understand it before.  But now I think that my brain was messed up; things were being placed in the wrong places.
I want my children to really understand and enjoy math.  So I decided way back then that we would delay formal math.  That means that we do not have a math textbook or workbooks until around 4th grade.  We do very little math on paper when they're younger  (although they do like doing some math apps on the iPad).  Most of what we do is through real-life experience:  playing games, cooking, measuring, figuring out how to divide things evenly, counting, sorting, dealing with money, looking at the calendar, etc.  As I've said before, I'm amazed at how much they know!  Around age 8 or 9 I start them with Math-U-See.  They go through about two books a year until 6th or 7th grade.  Then, they're "caught up" (pre-algebra level).  I have really found this method to work well for us because I can focus on other things when they're younger (reading and handwriting) and wait for formal math when they can grasp the concepts much quicker!
I'll write more on the Classical education model in the weeks to come–such as learning Logic and Latin!
Linked up to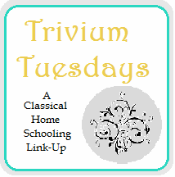 (contains affiliate links)