It's almost one of my favorite times, the Winter Olympics. This year they will be in Tokyo, Japan from July 23 – August 8, 2021. Find some really fun ways to prepare your students for the Olympics below.
Disclosure: I get commissions for purchases made through affiliate links in this post.
The Olympics Online Unit Study
I love the Online Unit Studies from Techie Homeschool Mom. Check out the 2021 Summer Games Online Unit Study to learn about the History of the Olympics, the Traditions of the Olympics, Becoming an Olympian, and specifics about 2021 Summer Games. Along with hands-on activities, students will create a collection of online puzzles to share what they learn!
If you haven't checked out any of the Online Unit Studies before, what sets them apart is that they have everything you need right there in the online course! No books to find and pick up at the library or things to print out. Even the activities are online, such as creating a slide show or editing a photo.
What you get in the Summer Games Online Unit Study:
Videos and links are included.
Learn about the Ancient Olympics.
Do an online word search.
Create a quiz comparing the Ancient and Modern Olympics with an online tool called Educaplay.
Learn about the Creed, Motto, and Oath of the Olympics.
Read about the Torch, Rings, and Mascots.
Make medals.
Do an Olympic trial.
Learn about the athletes and the events.
Geography lesson and the venues of the Olympics.
Learn to make a Google Docs spreadsheet to keep a medal count.
Other suggested online activities.
Online book ideas.
Olympic Medals Stem Graph
Get the free Olympic Medals Stem Graph here.
The free downloadable printable pack includes
Music lesson plan
Brass family of the orchestra
Quiz about the brass family
"Listen and Draw" page
Chalk Art Creations
Use art to learn more about the Olympics with the Summer Games Video Art Lessons here:
Also available are:
Winter Art Video Art Lessons and Olympic Rings Chalk Art Tutorial.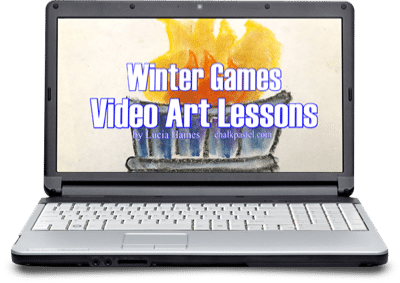 Host an Olympics Games Event
See lots of pictures of our homeschool co-op's Olympic Games event here and the different game ideas we did here.
Use Lego Bricks to Create Olympic Scenes
Read more about this fun activity here.
Ancient Olympic Activities
Adventures in Mommydom describes some fun activities you can do when studying the ancient Olympics, such as sock wrestling and making a victory wreath!
Free Olympics Lapbook
This free Olympics Lapbook is focused on the summer Olympics, but some of the information can be used to learn about the winter Olympics as well.
Winter Olympics Printables
There are some cute winter Olympics printables here.
Winter Olympics Themed Math Pages
Do math on these Winter Olympics themed math pages.
Ancient Greece and the Olympics Unit Study resources
Join Hide the Chocolate in a 4-week unit study of Ancient Greece and the Olympics.
More Olympics Resources
You'll find a variety of different resources for studying the Olympics here.
Learn about Olympian Jim Thorpe
How about a study of a specific Olympic athlete? Here is a unit study on Olympian Jim Thorpe.
Create an Olympic Ring Graph
This is a neat STEM activity ~ create an Olympic Ring Graph.
Greek Olympics Lesson Ideas
Make a torch, read about Greek myths, and more with these Greek Olympics Lesson Ideas here.
Giveaway of the Olympics Online Unit Study
(Update: Giveaway is over.)
Disclosure: By entering this giveaway, you are signing up for 2 email lists: I Choose Joy! and Techie Homeschool Mom. The giveaway will end Monday night, January 15, 2018, and the winner will have 24 hours to respond to my email.