Our next destination on our Colorado trip was to visit Colorado Springs.  (See Vacation Post #1 here.)
We left Omaha and traveled to Littleton, CO to have dinner with some friends.  We stopped to see a sod house along the way.  Out in the prairie there were few if any trees to build houses, so many built sod houses.  Isn't this amazing?  I can't imagine living there.
Then we saw a stop on the original Pony Express.  Another bit of interesting history.  Did you know it only lasted 1 1/2 years?  It sure is famous for not being very long-lived.  It was a 10-day way of delivering the mail from Missouri to Sacramento, CA in 1860-1861.  The riders would ride a horse from stop to stop, changing horses along the way.
The next day we went to Colorado Springs to visit "Odyssey" at Focus on the Family and the Garden of the Gods park.  I'm grateful to Adventures in Odyssey for helping our LONG drives be more enjoyable.  We listened to the brand new collection called "Our Favorites" (the favorite episodes of the actors)
and a collection called "The Truth Chronicles".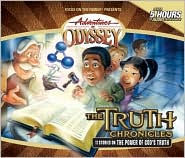 The most fun part for the four oldest kids was getting to record their own Odyssey radio show in the studio!  We have a CD of it, too!
Eating ice cream at Whit's End:
In the afternoon, we went on a little hike through Garden of the Gods (complete with a lot of complaining).  We sure did talk about "Do everything without complaining. . ." often on this trip!
After a quick bite to eat at Subway, we began the long drive to Vail.  All was well until we started a long descent in the mountains.  Our brakes started shimmying. . . Badly!  We started seeing signs like "Runaway Truck Ramp 1 Mile" and "Lost Brakes?  Don't Exit.  Stay on I-70."  Eeek!  Join us for Vacation Post #3 to see what happened!
(Disclosure:  This post contains affiliate links.)
See the wonderful blogs I've linked up to here!