[Today we have a guest post from Michelle Habrych on Presidents Lapbooks from Knowledge Box Central.]
Let me tell you a secret: I hated history in school. I felt it was just memorizing dates and events, without any real reason to know about it. It was not interesting to me at all.
Then I started homeschooling my kids, and I knew that I had to teach them history. I didn't want it to be boring, however. So I found a way to do it: tell the stories.
Each historical figure or event has a story. While looking for these stories, I discovered online radio programs for historical events. The kids and I listened to them in the car or sitting at home. We loved learning about these real events, even if the stories had been embellished for on-air excitement.
One favorite recording was Mr. President, and it led to my fascination with learning more about the men who held the highest office in the land. I began to research: reading books and watching documentaries. I then began writing study guides for Knowledge Box Central, who published them with their lapbooks. This research even led me to teach a crash-course in presidents three times at our homeschool group—all 44 presidents in 24 classes!
Why should you teach about the presidents? It's important for our students to have an understanding of each of these men. Where did they come from? What motivated them? What did they believe? Who did they marry? What did they do while in office? How did they change our country?
One way you can easily study the presidents in your home is with the Presidents lapbooks from Knowledge Box Central. The first six have been published.
Presidents Lapbooks:
George Washington
John Adams
Thomas Jefferson
James Madison
James Monroe
John Quincy Adams
The seventh is on its way. Your student can use these lapbooks to learn, and in the process, create something to show others. Hands-on learning such as this facilitates retention of facts as well as the stories.
Learn about the presidents with your students, grades 2nd through high school. Presidents Lapbooks from Knowledge Box Central are a fun way to do it!
Contributor Bio: Michelle Habrych enjoys reading about presidents and sharing that information with people of all ages. She homeschools her two teenagers, as well as teaching classes at her homeschool group. She is in the process of creating a lapbook for each of the 43 men who have been president (remember Cleveland was elected president twice, non-consecutively!).
FREE President's Day Notebooking Pages
Get Free President's Day Notebooking Pages here: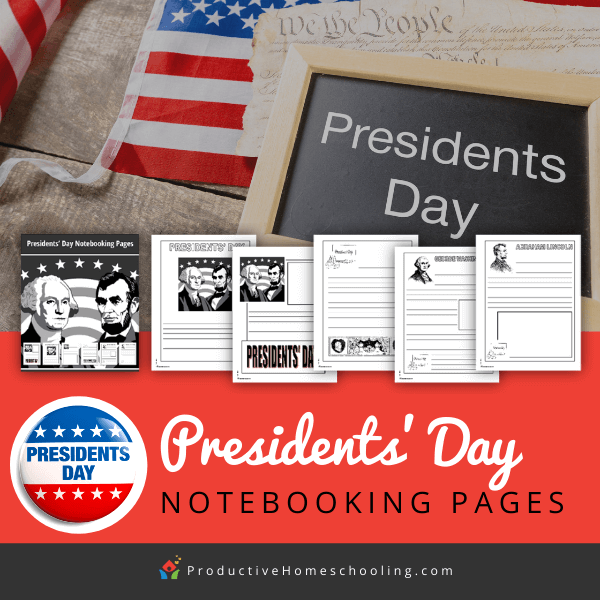 Related Posts: