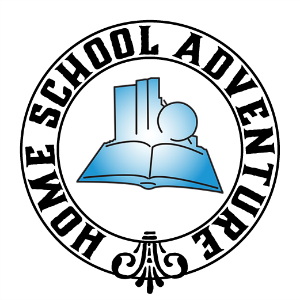 My oldest son and I have just reviewed a very unique product from Home School Adventure Co. called
Philosophy Adventure by Stacy Farrell.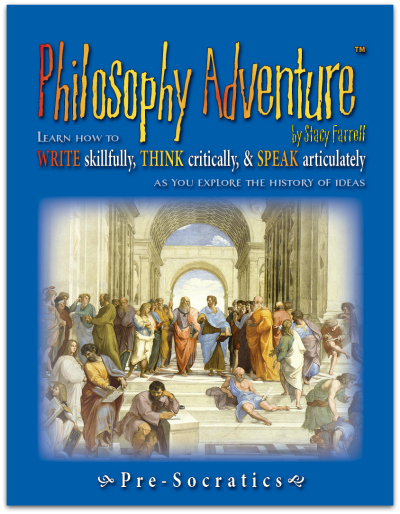 Philosophy Adventure
 – This curriculum (which I received in PDF form, but is also available in hardcopy) is geared for grades 6-12, and probably best for mature 6th graders and up. Middle schoolers will need parental/teacher guidance. High schoolers can do this on their own.  My son who worked on this for 6 weeks is in 7th grade.  
What is the Philosophy Adventure?  Well, it's a Philosophy curriculum, but it's so much more than that: English Composition, World History, Geography, Speech/Communications, and Logic/Critical Thinking!  There are 8 units, in which you study a different Pre-Socratic philosopher in each.  My son worked on the first two units:  Thales and Pythagoras.  Within each unit he did philosopher study, geography study, worldview study, and writing assignments.  It took a couple of weeks to go through these very thorough sections and do the assignments.  
For example, here is what he did for the first section.  He read about Thales the philosopher, read "Why Should I Write?", read "Memory Matters", read "You've Got to Have Style", labeled a map about Miletus Anatolia (Modern-Day Turkey), read about The Milesian School, read about "Direct from the Source: Aristotle", and read about Biblical Worldview.  There is a timeline that could be worked on, flashcards to study, and a test to take at the end of each unit.
Here are pages 2-3 of the first unit.  This section is called "Write."
Up close in this picture you can see the specific assignment for what he was supposed to write.  There are Journal pages in the Student Workbook where each question is printed with space for the answer to be written.
Each unit has some geography to learn.  Below is a map my son labeled and answered questions about:
Here are what some of the Memory Cards look like:
Below is what a test looks like:
You will find a suggested schedule for what to read or do each day.  But it also says to be flexible.  Some days took longer or shorter than we expected, so we just adjusted.  To make the curriculum (class) even more complete, Stacy suggests using Philippians in 28 Weeks as a Bible Study (where you will memorize the book of Philippians), and the literary analysis guides for The Wise Woman and Mere Christianity.  I do have these but haven't reviewed them yet.
Stacy had a goal in writing Philosophy Adventure–to make it engaging, easy to use, and empowering.  I feel she succeeded on all three accounts!  I was curious about this curriculum, which is why I chose to review it.  But I will admit that I expected it to be a bit boring.  I have never studied philosophy before, and didn't think that it could be interesting!  I really do love this curriculum.  I have already reccommended it to our co-op for possible use for the high-schoolers for next year.  I think it's important (very important) for all Christian kids to study what you will find in this curriculum.  Even if you don't homeschool.  You could even do it as a summer study!  I do think high-schoolers will get more out of it than middle-schoolers.
However, here is one of the best endorsements.  I told my son who is in middle school that his six weeks of philosophy study were over since my review was complete.  He said he wants me to print out the rest of the pages because he wants to keep working on it!  Yay Philosophy Adventure!
At the website you can find a sample lesson and a short video about Philosophy Adventure.  The price is $89.95 for the Philosophy Adventure Complete Set with Resources CD, $69.95 for just the Reader with Resources CD, $49.95 for the Digital Edition of the Reader and all Resources on CD, or $39.95 to get it all in a digital download.
Visit Home School Adventure Co. on social media:  Facebook, Twitter, Pinterest, Google+, and Instagram.