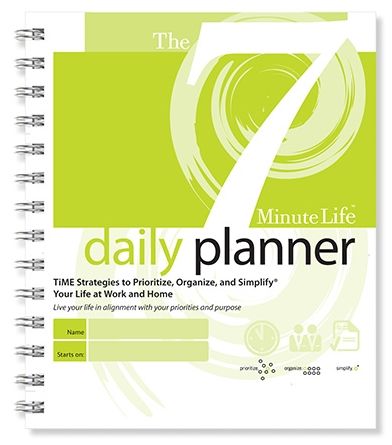 For the past month I have been using
The 7 Minute Life™ Daily Planner
from
The 7 Minute Life and am happy to share a review today!

What it looks like:
This is a 7.3″ by 8.5″ physical planner.  It has lovely light green colors with white and black.  It is nicely spiral bound with a think plastic cover for the front and back. It's best for adults; it's not a student planner. It begins with an introduction to the planner and the system, with pages to help you get ready and lots of different types of list pages.  Then, there are 90 daily planning pages.  "Ninety days is a long enough period of time to see if a plan is working and goals are being met.  It's also a short enough period of time to maintain motivation."
How it works:
Allyson Lewis is the creator of this planner and the ideas behind it.  Before jumping into the planning pages, she takes you through 11 pages of preparation for understanding the system.  It took me a good week to go through all these 7-minute projects.
I learned that the goal of the 7 Minute Life is to provide strategies to learn to prioritize, organize, and simplify.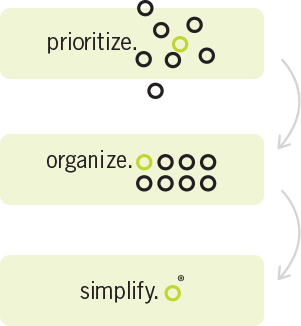 We don't need to continue doing tons of low priority tasks, but to organize and simplify so we can focus on the high priority tasks.  What's high priority?  You'll find out after you go through the preparation pages!
The first 7 Minute Life Idea was to prioritize my top 10 values.  There is a page that lists 75 values, and you are to circle the ones that "speak to you."  This was really a fun activity for me.
Here were my Top 10 Priorities:
1. Relationships/Family/Love
2. Teach and Inspire
3. Learn and Grow
4. Balance/Order
5. Faith
6. Solitude/Peace
7. Excellence
8. Laughter/Joy
9. Creativity/Arts
10. Leaving a Legacy
The next 7 Minute Life Idea was to Discover Your Purpose.  Here was mine:
At the age of 85, I will know I have fulfilled my purpose when: my marriage feels fulfilled and my kids are all following Christ, serving Him and have a good relationship with me.
The third 7 Minute Life Idea was to Establish 90-Day Goals:
There are some great goal sheets to fill out:
Next, Allyson explains 10 "7 Minute" Micro-Actions, which should only take you about 7 minutes to complete!
1.  List unfinished tasks (for work and home separately)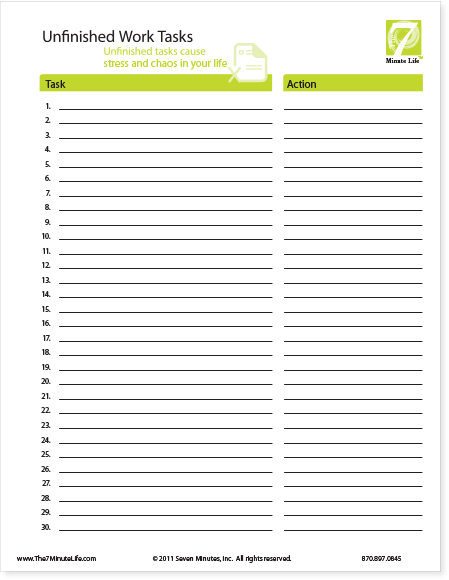 2. Identify and list mental clutter–"anything that takes up your finite time and emotional attention."
3.  Home Repair–start the list of problems that need to be taken care of
4. Life Connections–list people you are connected to.
5. Annual Projects and Tasks–list events, holidays, conferences, vacations, etc.
6.  12 Month Calendar
7.  Meeting Planner–great for writing out a meeting's plan
8.  Notes Pages — these were useful for figuring out my priorities
9.  Annual Exercise Progress Report
10.  Daily Progress Report pages–"takes your personal values, purpose, your 90-day goals, and your unfinished tasks, and translates them into DAILY ACTIVITIES and ACTION STEPS."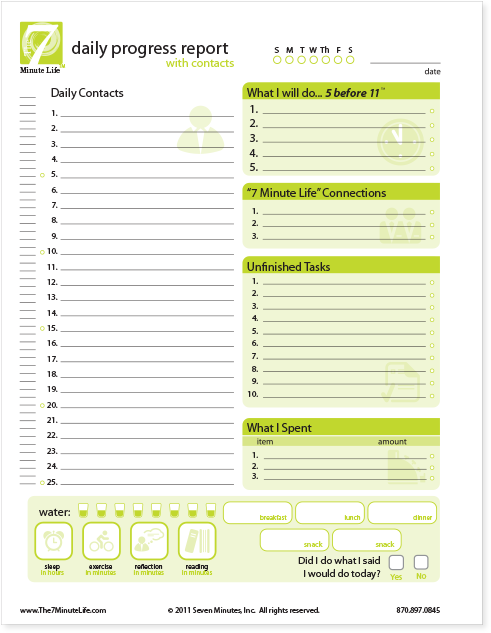 Here's an example of how I did one day:
My thoughts on how it worked for me:
I found the planner quite useful in helping me to identify my priorities and values.  I loved the exercises that I had to do to figure these things out.  The lists are also great and will help me figure out what I need to do next (such as in house repairs and unfinished tasks).  The part that didn't work so well was that the Daily Progress Report pages were meant more for a business woman.  I have some slight business leanings (in blogging and in an e-book I'm writing), but mostly I'm a stay-at-home homemaking mom who homeschools!  So, I did what a lot of my Schoolhouse Review Crew colleagues did and adapted the planner to fit my life!  Instead of "Daily Contacts" I started using that section for blogging activities I needed to complete.  Instead of voice mails (because I don't usually get any!) I used that section for Prayer Requests to remind me to pray throughout the day.  And in the blank pages at the bottom of the second page I started writing Homeschool Accomplishments.  Why? Because sometimes that's all that gets done, and it helps me to see that I actually did accomplish something even if the other goals on the page (thank you notes, connections, unfinished tasks, exercise, drinking water, etc.) didn't get done.  🙂
**The best part of the whole system is to figure out the day before what your "5 before 11" will be.  Above I wrote that I wanted to accomplish these five high priority tasks before 11 a.m.:  exercise, make orthodontist appointment, promote blog posts, package stuff for nieces, and make babysitting requests.  I practically never get these things done before 11, because I'm focusing on homeschooling.  But I do try to get them done before 4 pm!

This post contains affiliate links.