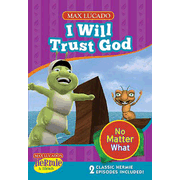 I'm happy to review a wonderful DVD for ages 4-7 today: "I Will Trust God" which is part of Max Lucado's Hermie and Friends series.  It's a 2 in 1 deal where you get two episodes in one DVD!
We have always loved the Hermie and Friends DVDs with the great voice talent of Tim Conway, Don Knotts, Vicki Lawrence, and Frank Peretti.  Max Lucado also stars as himself and shares a wonderful truth from God's Word for each episode.
In the first episode Hermie and the High Seas, Hermie receives a message from God.  God wants him to build a boat.  Hermie isn't told why, and he tries to get the other bugs in the garden to help him.  But they won't help him because there is a drought and they can't figure out why he would be doing such a thing.  Everyone has a very creative excuse.  But when it starts raining and then flooding, Hermie saves everyone in his boat!  Everyone learns to trust God even when He doesn't make sense.
In the second episode Who is in Charge Anyway? we see many vignettes about the special ways God has made each of the bugs.  They all have challenges, but they also all have something special that is unique to them.  It's hard for Freddie the Flea to see what's special about him, but he does learn to trust God that He'll one day see his talents and know the special plan God has for him.
And there's more–the bonus features!   Behind the scenes, Fun Garden Game, Sing-along songs featured in the stories, 90 minutes total for episodes plus bonus features.
And now you have a chance to win this DVD! Enter through the Rafflecopter app below.  The winner will be chosen on Wednesday March 26, and will have 24 hours to respond to my email.  18+, U.S. only.