I have a lot of Bible storybooks, and almost didn't ask to review (and giveaway!) God's Love for You by Rick and Renee Stearns.
There was something unique about this book, though, and here is what drew me to it (from the Thomas Nelson website):
"World Vision® CEO Richard Stearns and his wife, Reneé, present stories about children they've met through World Vision, what life is like in their corner of the world, and how God is working through their lives. Also features fun facts about each child's home country."
We're studying world geography this year, and I love this feature!  So, after every few Bible stories, you'll find a 2-page spread of a child's story with special facts about the country he or she lives in!
And here's another awesome feature: Proceeds of this book will be donated to World Vision!
*ages 4-9
*Contains favorite Bible stories and remarkable faith stories about children worldwide that share the themes of God's love and faithfulness
*Kids will learn about God's Word and discover that they can be a part of what He is doing in the world today
*Contains vibrant illustrations of Bible stories and beautiful photos from all over the world
*Beautifully illustrated by Martina Peluso in bright, whimsical displays. Carolyn Larsen, author of The Little Girl's Bible Storybook, assisted writing the Bible stories.
*272 pages
See the Flipbook of the inside here.
And please enter the giveaway of this beautiful and meaningful book using the Rafflecopter app below.  The winner must be from the U.S. and reply to my email within 24 hours. Giveaway ends October 20.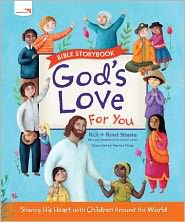 a Rafflecopter giveaway

(Disclosure:  I received a complimentary copy of this book from the publishers in exchange for this honest review.  This post also contains affiliate links.)