Skrafty is a Minecraft server just for homeschoolers! Learn all about it in today's post.
Minecraft Server
If your kids are like mine, they are Minecraft fanatics!  We only have one Minecraft account, which means that only one kid can play at a time.  We also have some very specific rules that are posted right by the Minecraft computer: only after all schoolwork and chores are done, only 20 minutes a day on weekdays and 30 minutes on weekends, they only get to watch one other kid play, and if they forget to set the timer they lose their turn the next day, etc.
Skrafty Homeschool Minecraft
When I heard about a safe Minecraft server and that they offer homeschool classes, I was very intrigued!  The company is called Skrafty Homeschool Minecraft, and their website is When You Rise Up. It's back to school time, and for homeschool families – that means gathering curriculum, planning and finding new ways to inspire kids in their studies. SKrafty Homeschool Minecraft is the perfect way to add the fun and inspiration you need.
This fall, the class line up is spectacular! If you need homeschool math, science, bible, history, language arts or more . . . you are in for a treat. Using some of your favorite homeschool curriculum companies (including Apologia Science, Mystery of History, and A+ Interactive Math) you'll learn to incorporate Minecraft projects into your family homeschool.
Find out more about the fully monitored SKrafty Minecraft server where it is safe for your family and children – and get whitelisted for FREE right HERE.
SKrafty is specially designed and the rules are constructed to encourage good sportsmanship – with no griefing allowed, no bad language or ugly talk, and no sharing of outside links to protect your children.
What other parents are saying about SKrafty Homeschool Minecraft:
"Since starting Skrafty my son has blossomed. His typing has gotten a lot better. School work is not a chore any more I just give him the list of what needs to be done and he does it. He finds the lessons entertaining and engaging and he loves the activities that go along with them. We are all very grateful for Skrafty." ~ Cheryl J.

"My son enjoys playing on Skrafty with other kids and I love that it is a safe, moderated Minecraft server! While playing on Skrafty he has learned creative building, developed critical thinking skills, made friends, and learned to be a team player. The classes have been fun and the reading program has encouraged him to read more than ever. Skrafty has been such a blessing to our family!" ~Julie B.
Special needs learning:
"Skrafty has been a huge blessing to our family! My son with dyslexia is not only learning but enjoying learning!!!! His reading and writing have developed more with Skrafty than any other program we have used. The classes are engaging because they are so hands on and truly turn learning into an adventure. I so highly recommend Skrafty!" ~ Caroline D.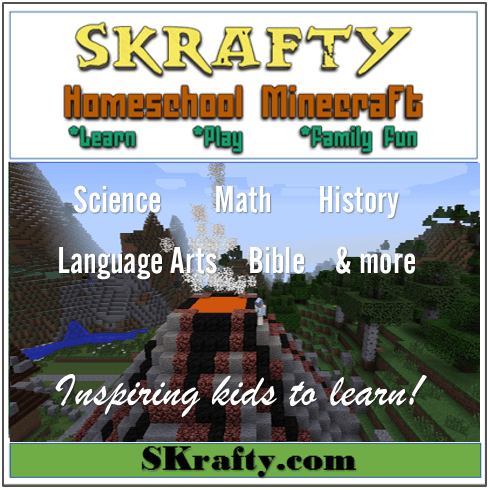 What we learned with SKrafty:
My 2 oldest daughters have been working through the Virtual France Field Trip class.  There are 2 parts to each of the 4 weeks of lessons.  They read about some aspects of France and watch some short videos or look at photographs. Then they go on the Skrafty Minecraft server into the Virtual France Field Trip class portal and have some fun.  There they can explore some things that have already been built, like the Eiffel Tower and other places around France, and they get to build things as well.  Since they are joining other kids, they have to find an unclaimed spot and claim it in order to build.  It took some time, but they usually they found a spot. (This was the only complaint I have. The kids sometimes really have to search and search to find a free plot.) My kids had to share (split the plots in sections) since they are sharing one account.  But there was still enough space to build their French restaurants and other creations.
Some of the kids also spent some time doing some other things that the Skrafty Minecraft server offers, like building and exploring in Creative Mode.
Variety of Classes
Skrafty offers some pretty neat classes.  We love using Apologia science and Mystery of History books, and Skrafty offers classes in both!  I think we're going to get the Apologia Astronomy self-paced class for the fall since that is the book we'll be using with my 1st, 2nd, and 3rd graders.  My 3 oldest kids (in 6th, 7th, and 8th grades) will be doing Apologia General Science, so I might get that one, too, if I think they'll have time for it.
Overall, we were happy with the Minecraft class that we took.  There were a few things we didn't understand how to do, but I just asked questions at the Skrafty Facebook group and received pretty prompt answers.  The kids sometimes thought some things weren't as fun as other Minecraft servers, but I know my youngest daughter preferred Skrafty when she had her free time.  My kids don't do chatting anyway, but if they did I would feel comfortable here with the Skrafty server.  I was happy that after they built things, such as their French restaurants, others weren't able to mess it up. They could go through it and explore it, but not break anything on it.  I also liked the things they learned on the class website–what they read about France and the videos they watched.  The one about the battle of Normandy was especially interesting.
Here are some pictures of things they built:
A Merry-Go-Round.  We saw on a video that they had one at the beach at Normandy.
Various French Restaurants:
The Kitchen:
Fried Apple-Sauce Cafe:
A Music Room in the Restaurant:
SKrafty is Affordable:
Extremely affordable classes (between $6.99 – $32.00) make it easy to add creativity and excitement into your education at home. Sign up HERE for live classes or self-paced classes and begin your journey into the world of homeschool Minecraft with SKrafty.
If you decide to try a SKrafty class, let me know how it goes! I'd love to hear about the other classes they offer to see if we should try them!
(Disclosure: I received a free Skrafty class in order to write this honest review. As a thank you, I will receive another class for this fall.  This post also contains affiliate links.)