If you're an American homeschooler, then a U.S. State Study is most certainly on your list of things to do with your elementary homeschoolers. I just recently finished it up with my own kids, and am so happy to share with you today "The Ultimate List of U.S. State Study Resources." If you have any other great ideas, be sure to leave them in a comment below.
Disclosure: I get commissions for purchases made through affiliate links in this post.
U.S. State Study Resources in Books
Include State Songs in your U.S. State Study
This is the perfect course to do with any state study! Listen to the state's official –and unofficial –songs as you learn about each state. Videos of the songs, as well as links to lyrics and sheet music are included.
This course is all you need if you don't want an additional state study curriculum since the state symbols and other pertinent information are included for each state.
One of my favorite parts of the course is the inclusion of additional songs that are representative of each state, but aren't "official." Many of these were recommended by those who live in and love their state. Thanks for sharing these with all of us! (If I missed your favorite, but sure to let me know.)
Here's a free preview for the state of Kentucky!
The "State Songs of the 50 U.S. States" Course is perfect for making geography study of the states of the United States comprehensive and exciting!
U.S. State Study Resources for Art
I love having the kids draw as we're studying. This is a perfect way to learn about the landmarks and how t be a better artist at the same time.
American Landmarks Video Art Course Includes Learning to Draw:
Golden Gate Bridge
Liberty Bell
Washington Monument with fireworks
Yellowstone Falls
Delicate Arch
The Grand Tetons
Lincoln Memorial
Niagara Falls
Lighthouse
Civil War Cannon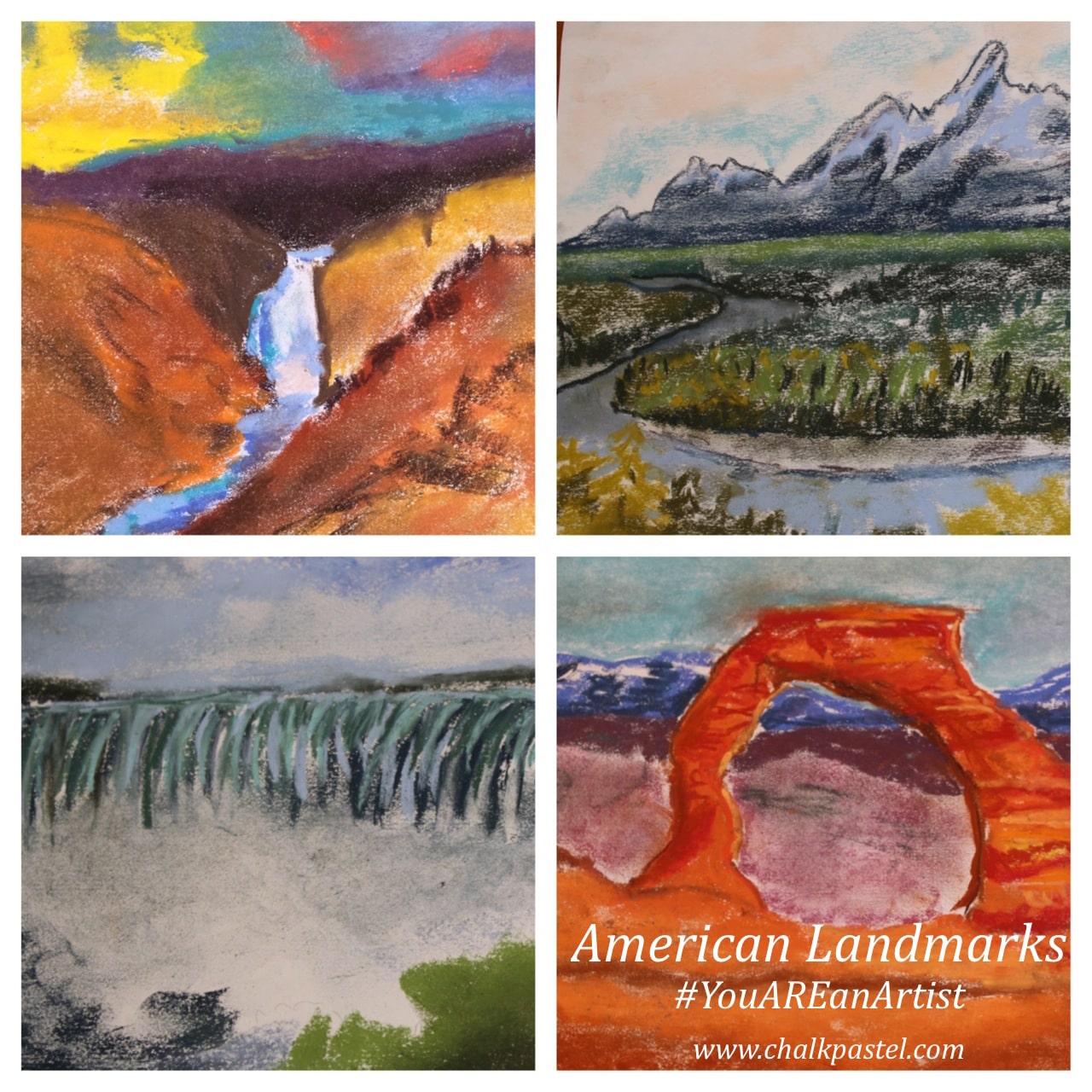 Other Activities and U.S. State Study Resources
O.K, this is so totally fun! It's similar to making a salt dough map, but it's actually edible. The recipe is included. I'm sure your kids will remember the Louisiana Purchase/Lewis and Clark trail after this activity!
What better way to learn about state names, capitals, and facts than with a game? The Name That State! file folder game is designed to help drill state shapes, names, initials, capitals, regions, and more. Players compete to see who can remember and claim more states in a game that can vary dramatically in difficulty, from basic beginner information to including more complex facts. ?
These 10 hands-on history activities include making food, crafts, and games that those who moved to the western states of the U.S. would have made or played.
Writing and Printables for your U.S. State Study
FREE PREVIEW: U.S. State Study Notebooking Pages

3 Pages
I love the natural way this brings about learning geography of the states~ through a license plate game!
Each individual set of state notebooking pages includes a Notebook Cover (1 page), Map, Nickname, & Motto Page (1 page), State Facts Reporting Page (1 page), State Timeline Recording Page (1 page), State Symbol Pages – bird/flower, tree, flag, seal, song (6 pages), Map Pages (2 pages), Template Pages for History, Government, Famous People, Inventions, Tourism (2 pages each), Template Pages (Blank) – for your own topics (4 pages), State Symbol Pages (Blank) – draw your own symbols (11 pages), Cutouts for Notebooks or Lapbooks (3 pages), Travel Journaling Pages (4 pages), and 2 pages of Info, ideas, directions, and state facts.
This 64-page set of notebooking pages is perfect to guide 2nd-6th graders on a research-based study of the 50 states of the U.S.A. It includes a notebooking page for each of the 50 states with a traceable map where your children can highlight notable places – like capital cities, key historical sites, and/or major tourist attractions. Additionally, cut and paste full-color flags and state seals (included in the download) to make each notebooking page colorful and complete.
This set includes the U.S.A. Activity Pages, one for each of the 50 states where students map the location, capital city, landmarks, abbreviation, nickname, state flower, and state bird. Children color the state flag as well as the state flower and state bird with ample room to add interesting facts and notes. This activity pack includes two games to finish out your unit: USA Bingo & Roll Across America.
Find some of the best homeschool curriculum here.
High School U.S. State Study Resources
I'll add more as I discover them, but here is state history resource, an online course for Alaska state history that meets the half-credit state history requirement for high school students.
Ideas for traveling to different U.S. States
Most of these are my own family's road trip vacations. 🙂