Our family is so excited that Unleash by Brock Eastman is available today!  You can get the Kindle version at Amazon today, and the print version will come out on Friday June 21st.
Unleash is the third book in "The Quest for Truth" series.  I have written reviews of book 1 Taken and book 2 Risk, which you might want to check out.  As soon as we receive and read Unleash, I'll write a review and do a giveaway of it as well!  If you'd like to start at the beginning, you can get a Kindle copy of the first book Taken today for only $0.99!  When Unleash releases to bookstores on June 21st, several retailers will be running a special on the print versions Taken and Risk for $3 each!
Information about the books:
At this point in the series the tipping point has come and the excitement is at an all new high!
Claws raised, mouth open, it was coming for her!
 The Wikk kids' quest unleashes fresh courage and new adventures. Now working as a team, the kids face their greatest dangers yet: a plundered planet, lies, betrayal, and fierce lizards that want to eat them all! Facing their fears and searching for answers, Oliver and Tiffany slip into a high-security laboratory . . . meanwhile Mason, Austin, and Obbin battle Corsair pirates and make a shocking discovery! Will they be able to unlock the truth about Creator and take the next step? Will you?
THE QUEST FOR TRUTH series follows the four Wikk kids in their desperate race to find the mysterious planet Ursprung and stop the Übel renegades from misusing its long-lost secrets. Ancient cities, treacherous villains, high-tech gadgets, the Phoenix—encounter all these and more on this futuristic, interplanetary adventure.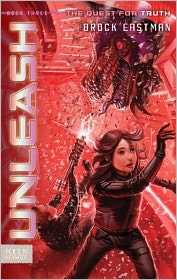 Testimonials:
"This is my kind of story—twists in every chapter, adventures galore, and characters I wish I could hang with. Unleash your imagination and read Unleash now."
—Robert Liparulo, bestselling author of The Dreamhouse Kings series
"Brock delivers the elements to keep kids—even reluctant readers—engaged and excited, while giving them lessons for life."
—Sigmund Brower, bestselling author of the Robot Wars series
I have four kids who crave exciting books. By exciting I don't only mean non-stop-page-turning action and adventure, but also amazing locations, imaginative inventions, and wild creatures. The Quest for Truth has it all. This series will keep your kids attention and introduce them to the truth and hope we all seek. A must for any family's bookshelf.
 – Tricia Goyer, Mom of 4, author of 33 books, and host of Living Inspired weekly radio podcast
Other books by Brock Eastman:
(Disclosure:  Our family will receive a copy of Unleash in order to write an honest review after we read it.  This post contains affiliate links.)