A number of years ago I began to teach my fourth child to read. I had successfully taught my first three kids, so I was in for quite a shock to find out that using the same materials and methods weren't working with her. It wasn't long before I started suspecting that dyslexia was the reason why. Today, I'll share more of our story and what every homeschooler needs to know about dyslexia.
Disclosure: I get commissions for purchases made through affiliate links in this post.
Scroll to the bottom for a $100 Gift Certificate Giveaway!
Our Dyslexia Story
After I taught my fifth and sixth kids to read and the fourth was still struggling, I decided to take her to get tested at an amazing dyslexia tutoring center in our area. We found out that her dyslexia was not mild, and that private Orton-Gillingham tutoring would benefit her greatly. She did that for 3 years and graduated from the program.
Now, she is able to do her high school homeschool work mostly independently! And, she is beginning her own business at age 15. As I write this, she is working on opening her Etsy shop Nail Sets By B. See her Instagram account here!
What Every Homeschooler Should Know About Dyslexia
What is dyslexia:
Susan Barton says that "Dyslexia is an inherited condition that makes it extremely difficult to read, write, and spell in our native language—despite at least average intelligence."
The National Institute of Health states:
"Dyslexia is a brain-based type of learning disability that specifically impairs a person's ability to read. These individuals typically read at levels significantly lower than expected despite having normal intelligence. Although the disorder varies from person to person, common characteristics among people with dyslexia are difficulty with phonological processing (the manipulation of sounds), spelling, and/or rapid visual-verbal responding. . . . Dyslexia can be inherited in some families, and recent studies have identified a number of genes that may predispose an individual to developing dyslexia."
Dyslexia is inherited.
It's diagnosable at 5 ½ years old.
Dyslexic brains are different.
Affects 1 in every 5 people.
Most common learning disability.
Affects boys and girls equally.
Is the leading cause of reading failure and school dropouts.
Early help is important.
Is a language processing disorder and NOT a visual problem.
Is not curable, but those with dyslexia can learn techniques to help them thrive!
Famous People with Dyslexia
Did you know some of the most creative and talented people in the world have/had dyslexia?
Inventors and Scientists such as Henry Ford, the Wright brothers, Thomas Edison, and Albert Einstein.
Athletes such as Babe Ruth, Greg Louganis, Muhammad Ali, and Tim Tebow.
Writers such as Jules Verne, Agatha Christie, and F. Scott Fitzgerald
Musicians/Composers such as Ludwig Van Beethoven, Harry Belafonte, and Wolfgang Amadeus Mozart
Political Leaders such as Benjamin Franklin, Napoleon Bonaparte, George Washington, and Winston Churchill
Military Heroes such as "Stonewall" Jackson and George Patton
Actors & Entertainers such as Keanu Reeves, Orlando Bloom, Whoopi Goldberg, Salma Hayek, Keira Knightley, Will Smith, and Harrison Ford.
Artists, Designers & Architects such as Pablo Picasso, Ansel Adams, Leonardo da Vinci, Michelangelo, Tommy Hilfiger, and Vincent Van Gogh
Entrepreneurs & Business Leaders such as Walt Disney, Steve Jobs, Charles Schwab, Nelson Rockefeller, and Ted Turner.
See here for an even more comprehensive list.
Accommodations for Dyslexia
Perhaps you think like I used to think–that we should treat everyone equally. Then, I had a child with a learning disability and my eyes became opened.
I love this graphic (see below) for helping to describe what accommodations do for kids with dyslexia (or any other disability/issue that makes them "unequal").
The first shows the kids all getting "equal" instruction and treatment in their education. In the next picture, the second two kids have some accommodations, such as having more time to take a test or being able to type answers rather than handwrite them. It puts them on an even playing field.
Here are some of the accommodations that our tutor recommended for my daughter:
Provide audiobooks for all reading assignments.
Give tests orally and allow her to dictate answers.
Don't count off for spelling or grammar errors.
Give more time for any assignments that are hand-written.
Do You Suspect Dyslexia?
Download the symptoms of dyslexia guide from All About Learning Press here: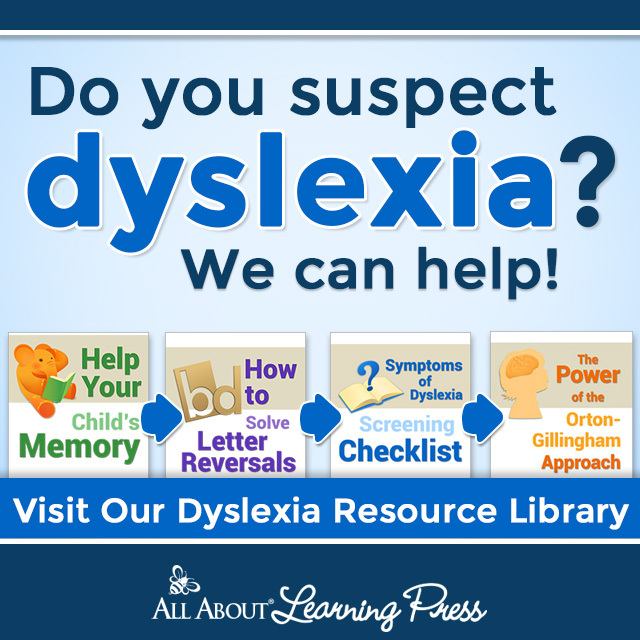 Curriculum for those with Dyslexia
I highly recommend All About Learning Press if you have a child with dyslexia–or even if you don't! We have used quite a bit of their curriculum and books, so I speak from experience. Scroll down to the "Related Posts" below for ways we've used it.
All About Reading is a complete program that teaches phonics, decoding, vocabulary, fluency, and comprehension. It comes in 4 levels, plus a pre-reading program. The multisensory instruction includes scripted lessons in an easy-to-follow format so you never miss a step. Plus, it's fun and engaging!
All About Spelling is a 7-level program that teaches encoding skills, spelling rules, and multisensory strategies for spelling success. It uses the Orton-Gillingham approach and contains explicit teaching to help students succeed. Your student will become a proficient speller for life!
Get Some Free Reading and Spelling Tips Here: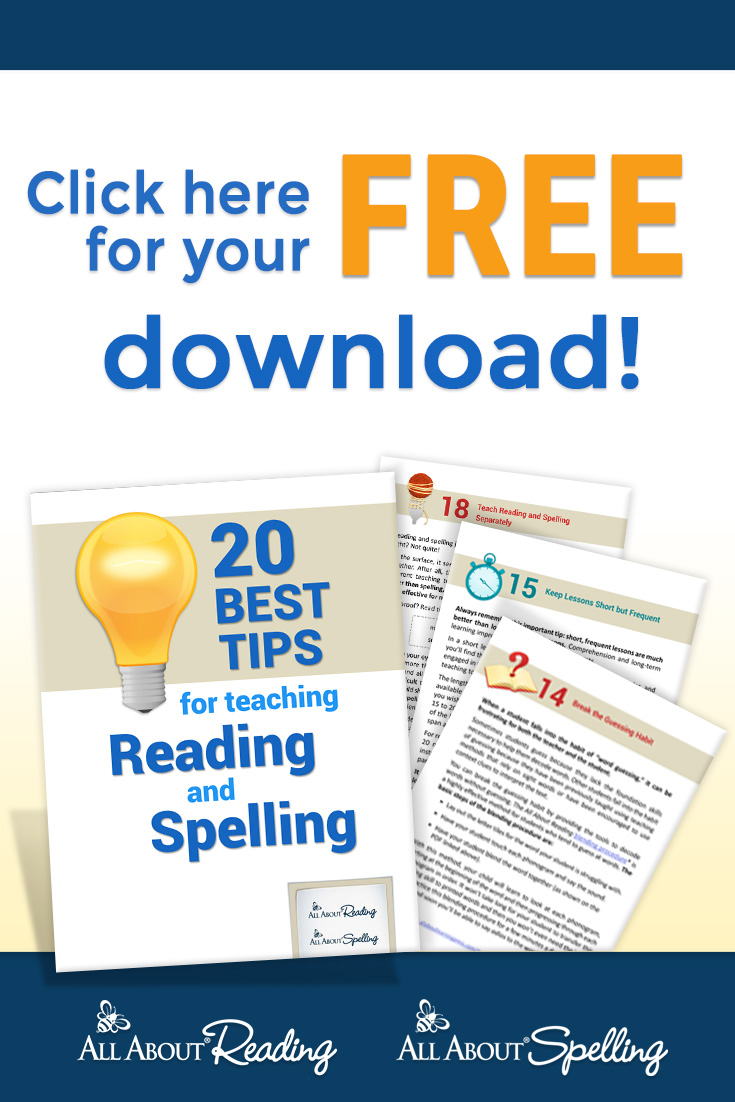 An All About Learning Press Giveaway
This giveaway has been sponsored by All About Learning Press. All About Learning is a fantastic program that prides itself on taking the struggle(s) out of reading and spelling for both parents and children. Want to learn more about their program? This free e-book will give you a glimpse into the proven strategies that make All About Reading and All About Spelling so successful!
Giveaway ends on August 23rd, 2020 at 11:59 pm ET. Participants must meet the following requirements to be eligible to receive a prize(s); be at least 18 years of age, and be a resident of the U.S. or Canada. Selected winners will have 48 hours to respond to email notification to claim their prizes or another winner will be drawn. By entering this giveaway, you agree to be added to the email lists of the participating bloggers (see the Terms & Conditions on the entry form for the complete list).
Related "All About Learning Press" Posts: