How's your history curriculum working out for you in your homeschool right now? Are your kids begging to do it every day? Or, is it something both they AND you dread? Let me tell you it doesn't have to be that way! I have found a superb way to breathe life into any history curriculum! Simply use an add-on from Homeschool in the Woods and make your history a time you and your kids look forward to each day!
Disclosure: I received the Time Travelers History Bundle downloads from Homeschool in the Woods in order to honestly review it here. This is a sponsored post. All opinions are my own.
History Curriculum Add-ons
We use a different history curriculum as our main spine for history, but I love adding extra life into it by using add-ons from Homeschool in the Woods. We just recently finished a study of the Civil War. Look at all the fun things my kids did!
Newspaper
The newspaper is a wonderful way for kids to summarize what they've learned, as well as do some creative writing. What's awesome about these newspaper templates is that they aren't just writing article after article. There are some fun things sprinkled in, such as advertisements that relate to the historical time period or event.
Here is what my 9-year-old daughter worked on:
Timeline
One of the most wonderful things about the Homeschool in the Woods materials is that Amy Pak is such an incredible artist. All these timeline figures are drawn by her! Doing a timeline is a great project for any history curriculum.
Paper Dolls
My girls have always loved the various paper dolls from Homeschool in the Woods.
Lessons to Read
Something that makes the Homeschool in the Woods Time Travelers so versatile is that they do include all the lessons about the historical time period if you don't want to use another history curriculum. In other words, you can use the Time Travelers to teach everything for your history studies!
Lapbook
Here are some pictures of the lapbook we put together when we studied the Civil War 4 years ago. I love that the one-time purchase allows you to use it as many times with your family as you like. I'm sure we'll do the Civil War one at least one more time!
Other Projects
There are some really fun projects to do that are included, such as making safe house lanterns from tin cans and cooking Civil War era food. The Johnny Cake cornbread recipe is one of my all-time favorites now! We even went on a field trip to a Civil War museum. That was a wonderful experience.
Others in the Time Travelers Series
Each of the Time Travelers includes enough teaching material for 5-10 weeks and is great for 3rd grade through 8th grade. They all include penmanship, timeline, lapbook, newspaper, all the lessons you need to read about, and so many fun projects!
These are available individually or as a bundle of all seven.
Learn more about U.S. History Time Travelers in this video:
 À La Carte Projects
Homeschool in the Woods also has 
À La Carte Projects
that are individual projects from the Time Traveler or Project Passport units. You can find all kinds of fun hands-on projects that are extremely affordable!
Jamestown Replica:
Learn to Quill
Or, maybe you're studying music? Try the Composers Timeline:
Giveaway of Civil War Time Traveler download
I'm so excited that Homeschool in the Woods has offered to give away a Civil War Time Traveler download ($27 value!) to one blessed family. The giveaway will run from April 5-15, 2018. The winner will have 24 hours to respond to my email. Please enter on the Rafflecopter app below.
Related Homeschool in the Woods History Curriculum Posts
(Disclosure: I received the Time Travelers History Bundle downloads from Homeschool in the Woods in order to honestly review it here. This is a sponsored post. All opinions are my own.)
FREE President's Day Notebooking Pages
Get Free President's Day Notebooking Pages here: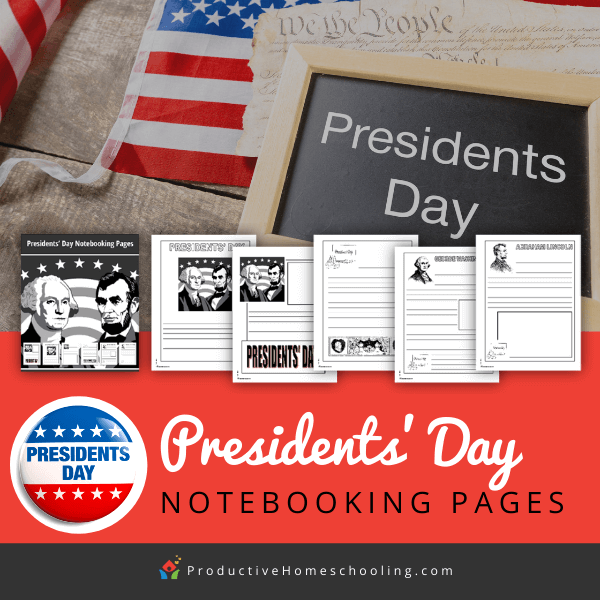 Here's a great President's Day art lesson