A couple of years ago I was introduced to the wonderful books of Dannah Gresh.  She has two new ones coming out that I'm happy to review today!  They are part of the Secret Keeper Girl series.  One is A Girl's Guide to Best Friends and Mean Girls and the other is 8 Great Dates: Talking to Your Daughter About Best Friends and Mean Girls.
The Issue:
No matter how you cut it, girls are wired for relationship. According to one study, sixty-seven percent of tween girls—those ages 8 to 12—say that "having lots of friends" is among the top three factors that give them the most confidence. But as much as tween girls crave friendships, learning how to wisely choose friends, how to be a good friend, and what to do when hurts and jealousy creep into the relationship can be a challenge. Dannah Gresh believes it's critical for moms to come alongside their daughters and teach them how to navigate these challenges in a biblical way.
I am truly thankful for Dannah's ministry.  Her books have already helped my parenting of both my tween sons and daughters.  My most pinned" post ever was of the review of Six Ways to Keep the "Good" in Your Boy (81, 000 so far!).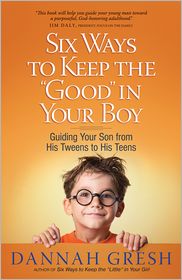 My oldest daughter, who will be turning 10 in a few weeks, and I have been doing the dates from the first 8 Dates book: 8 Great Dates for Moms and Daughters:  How to Talk About True Beauty, Cool Fashion, and . . . Modesty!.
And I have also learned a ton from Six Ways to Keep the "Little" in Your Girl: Guiding Your Daughter from Her Tweens to Her Teens.
These 2 new books about Best Friends and Mean Girls will help you and your daughter learn more about friendships.  I loved the "date" ideas in the 8 Great Dates book.  They give you some wonderful one-on-one time with your daughter to help her navigate relationships and work on how to be a good friend.  One of the best ideas in it is to let her have a sleepover–but remain in the room with the girls the whole time!  That way you are able to help all of them talk through their issues and problems.  Awesome!  I also loved the date idea of doing service for someone in your neighborhood.
Part of each date is to listen on MP3 a little segment by Dannah herself.  These can be heard on her website Secret Keeper Girl if you'd like to listen to them.  My daughter and I have loved doing these with the dates we've done so far.  (Stay tuned in the next month or so and I'll do a whole post about the first 8 Great Dates book!)
The other book A Girl's Guide to Best Friends and Mean Girls is a mixture of a story and a devotional guide.  It's for your daughter to read through herself, or you may certainly go through it with her.  I love that it is teaching her to study the Bible and to find answers to life's problems in God's Word.
(Disclosure:  I received complimentary copies of the Best Friends Mean Girl books in exchange for this honest review.  This post contains affiliate links.)