I have finished my wonderful crocheted bag!  This yarn was really fun to work with.
I received it for my birthday this year (from ebay).  It's 100% silk, made from sari remnants.  It's fascinating to work with because it isn't the same thickness all the way through–and all different colors.  By the way, my birthday is in January, so that gives you an idea how long it took me to finish this!
The pattern is from Chicks With Sticks Guide to Crochet by Nancy Queen and Mary Ellen O'Connell. (It's my favorite crochet book!)
I LOVE these buttons! They're 100% coconut! From Joann.com.
Even though the directions clearly said not to make the strap too long because it will stretch, I did make it too long. So, here is what I did to fix it–shape it into a bow and sew it in place using the same sari yarn.
And I might have to get some of this lovely bamboo yarn to work on my next project!

Linked to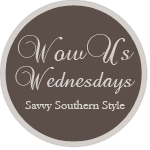 And Cherished Bliss
(contains affiliate links)