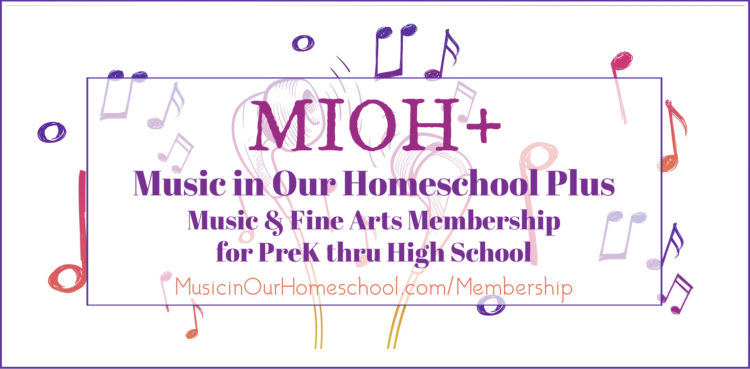 I'm so excited to share about our awesome new Spanish curriculum: Foreign Languages for Kids by Kids.
Click here for FREE music lessons:
It's the only subject that EVERY DAY my kids say, "Can we do it?"
What makes it so great?
The kids are learning through an immersion approach from videos of kids acting out stories. You can get a free trial membership to see the videos for yourself at the Foreign Languages for Kids by  Kids website.
Each video is about 5 minutes long. There are a few review videos that are longer. There is a lot of repetition so the kids are hearing the words–and often seeing the words as well–often.  The way they "see" the words is that sometimes they're typed on the videos. Other times there are cards with the words written on them attached to items or even words on the kids' (and dogs') shirts! My kids often want to watch the same videos over and over, which really helps reinforce the words and phrases.
I love the fun stories that are acted out by the kids. My children are enthralled with them!
The kids that are in the videos are really good actors. I think they had a ball recording these videos. They are also great Spanish speakers. The only thing I don't like is that their pronunciation isn't what I learned growing up in El Paso, Texas. But Spanish, just like English, is spoken with different pronunciations depending on where you live in the world.
I'm glad that my kids love watching the videos and that they are learning the language. After 2 months they already feel more comfortable with Spanish, and I occasionally hear them speaking it at random times. For example, my 3-year-old was eating something the other day and said, "Me gusto."
Head over the the Foreign Languages for Kids website and check it out. I'll be back in December to share about some of the other products associated with Foreign Languages for Kids, such as the teacher's guide and quizzes, and online interactive workbooks that reinforce what they are learning in the videos!
(Disclosure: I received a 6-month membership to Foreign Languages for Kids in order to write this and other honest reviews. I am also an affiliate and this post contains affiliate links.)